Luise Lochau 1906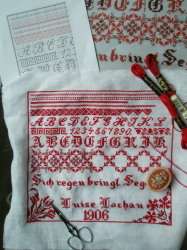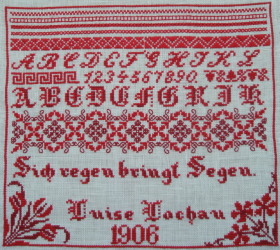 Luise proudly displayed her skills on her school sampler worked in two nice strong reds: the cross stitch, the square stitch, the eyelet stitch and the satin stitch! In the second alphabet row, she practised to work with two colours alternatel. She applied all kinds of stitches to the beautiful wide border.

As a pattern, she used among other things a little booklet by Selma Schoene, very popular in those days: "Alphabete und Muster zum Wäschezeichnen und Sticken (Alphabets and Patterns for Marking and Stitching)", published in Leipzig. Short sayings, here: "Sich regen bringt Segen (Hard work brings its own reward)", were very popular at that time.

Luise's sampler is 37 cm wide and 33.5 cm high. It is privately owned.
Price:
chart : € 8.-
Crosses: 154 x 141
Size: 22 x 20 cm
Stitches:
cross stitch
square stitch
eyelets
satin stitch