Johanna Schramm 1920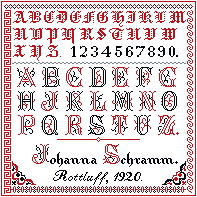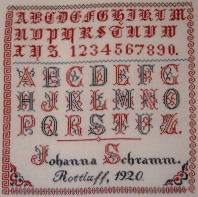 The great Jugendstil alphabet in Johanna's sampler from 1920 immediately draws the eye to it. Its clear, beautiful composition, two alphabets, a row of numbers, border, two corners, "signing"" - done!

Johanna came from ROTTLUFF, a small town near Chemnitz in Saxony. Since the beginning of the 19th century, Rottluff developed into a housing estate of the Chemnitz workers and their families ("Chemnitz--Manchester"). Rottluff was incorporated into Chemnitz in the year 1929.

The well-known painter and graphic artist Karl Schmidt-Rottluff (1884 - 1976) added his place of birth - probably proud of - to his name!
Price:
chart : € 10.-
Crosses: 195 x 195
Size: 27.5 x 27.5 cm
Stitches:
cross stitch