Louise Ziegler 1858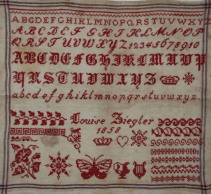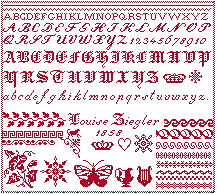 Louise's school sampler was given to the museum by the family in 1961. Most of the treasures of museums are based on donations. How wonderful!

The Ziegler family comes from Weischuetz, a village between Freyburg and Laucha in Saxony-Anhalt.

The Museum Schloss Neuenburg has a nice collection of samplers, which are presented as often as possible in various exhibitions. I thank the museum staff, who allowed me to look behind the doors of the archives.
Price:
chart : € 10.-
Crosses: 214 x 192
Size: 30.5 x 27 cm
Stitches:
cross stitch