Antonie Groltsch 1889
Antonie designed her sampler with four alphabets and two rows of numbers like a picture. In the end, she lined her work with fine cloth, edged it with a coloured band and fixed red ribbon bows at the four corners. If that would not impress the teacher!

The beautiful floral tendril in the bottom section is a motif from the 18th century, published by Christian Weigel Junior in Nuremberg in 1784. Later, it appears again with the Swiss Elly Koch! Popular motifs last long and were passed from country to country.

Antonie's sampler comes from Klagenfurt, Austria, it is owned by Kulturhistorisches Museum Schloss Merseburg and the original is 41 cm wide and 62 cm high.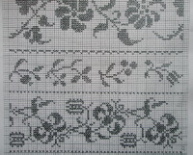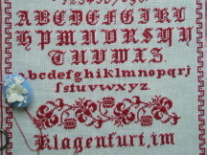 Price:
chart: € 14,-
Crosses: 173 x 261
Size: 24,5 x 37 cm
Stitches:
cross stitch