SB 1776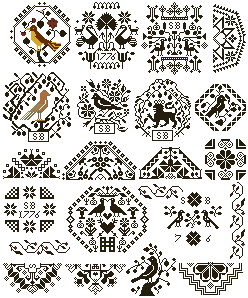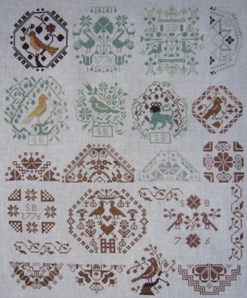 We do already know "the bird in the cherry tree" from the gorgeous Ackworth sampler "Frances Rae 1797". In 1776, when SB was working her sampler, the famous Quaker school in Ackworth has not yet been founded. So: Where does this sampler come from? During the first Ackworth seminar in December 2006, this sampler was presented to the public for the first time. Even then, it was a little mystery. They have a great deal in common. The unknown motifs seem to have similarities with embroidery from German-speaking Europe (today: Switzerland, Austria), Carol Humphrey writes in her book "Friends, A Common Thread, Samplers with a Quaker influence" accompanying the exhibition in October 2008.
The silk colours of the medallions in this sampler have changed over more than 230 years.
In order to emphasize the clearness of the motifs and the sampler, I decided to design the medallions in just one colour.
The sampler is privately owned.
Prices:
chart: € 18.-
Crosses: 243 x 294
Size: 34.5 x 41.5 cm
Stitches:
cross stitch