Frances Rae 1797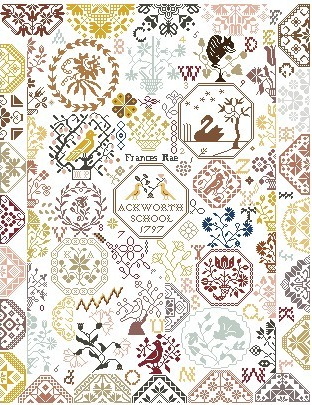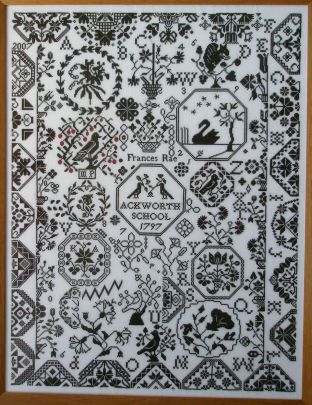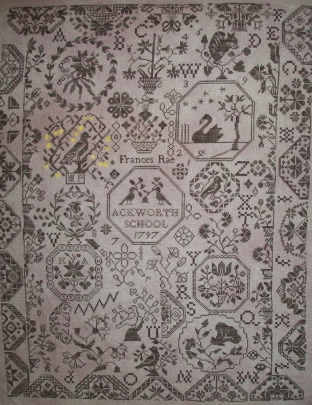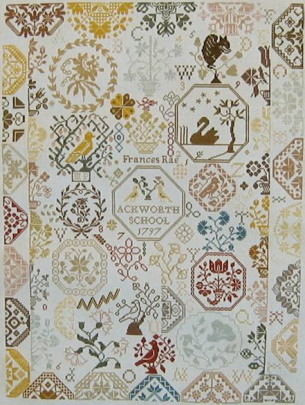 Karen Bugg's reproduction sampler is stitched on Lakeside Linen 40 ct Fawn with Vikki Clayton's Exampler Kindling for the medallions and Kodiak Bear 5141 for the letters. With just a touch of gold (She doesn't know the colour name as it was a mystery spool.) for the berries.
Karen Fetchen stitched her Frances on 28 count Monaco 1x1 using Vikki Clayton's silk conversion. She did change 3 of the motifs' colours since she didn't want two of the same colours motif next to each other.
Is Frances' motif "Bird in the Cherry Tree" her own creation? Anyway, she executed her own sampler using given traditional patterns and thus she set a wonderful example to a school task. None of the Ackworth samplers that are known to us looks like another.
Frances Rae from Stratford attended the school in Ackworth from 1790 to 1794. She probably began her work in 1793 or 1794 and she finished it as a young employed girl later. She even stitched the year of the completion twice!
Frances' needlework is in the collection of the Cooper-Hewitt, National Design Museum, Smithsonian Institution in New York.
The pattern is based on the illustrations on a calendar sheet and in Carol Humphrey's new publication "Quaker School Girl Samplers from Ackworth".
Prices:
chart: € 22.-
Size: 44 x 56,5 cm
Crosses: 310 x 399
Stitches:
cross stitch
petit point (tent), worked over one thread of linen
Algerian eyelet
satin