Hélène François 1898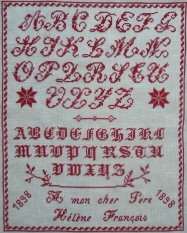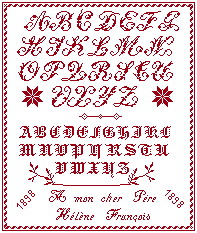 Hélène dedicated a typical French school sampler with a large, opulent alphabet to her dear father.
The original piece is in private ownership. It is 37 cm wide and 46 cm high. It was on display in the exhibition "300 jaar mooi noticed" at Veenkoloniaal Museum, Veendam in 1993.
Price:
chart : € 10.-
Crosses: 193 x 229
Size: 27 x 32.5 cm
Stitches:
cross stitch