Elsa Werner 1886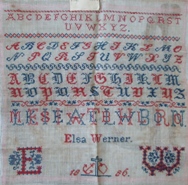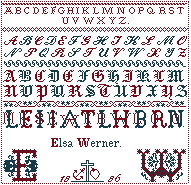 Elsa was 9 or 10 years old when she handed her red and blue school sampler over for assessment to the teacher at the end of year 3. She fixed a small notepad on the back of the work.
Most notable are Elsa's initials: The oversized capitals are decorated by carnation flowers in square stitch forming a counterbalance to the three alphabets and monogram pairs which were straightly executed in the style of the time.
She decorated the year with the three symbols of Christian education - faith, hope, charity. Elsa's sampler is part of Margit Guerrein's collection.
Prices:
chart: € 10.-
Crosses: 147 x 142
Size: 28 x 26 cm
Stitches:
cross stitch
four-sided stitch