Elisabeth & Willi 1911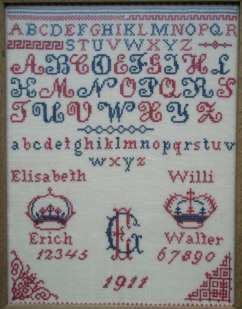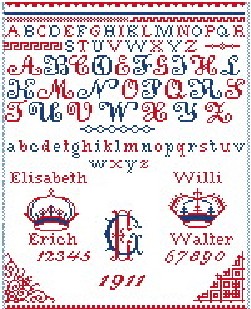 Little Elisabeth's sampler starts - like many samplers of this time at the beginning of the last century - with a series of "half cross stitches", a preliminary practice for the complete cross stitch. In the third row, she already worked these crosses shifted! The fabric was rather coarse and the embroidery floss as well. But the stitcher observed the gaps between the letters and remained on the invisible line. She alternately used her two school colours.
She designed very personally the lower third of her exercise: with two magnificent crowns and four first names - probably brothers and sister - and an intricate monogram, according to the fashion in those days, the Art Nouveau.
At the end the little girl decorated the upper and lower edge with carefully executed satin stitches and pulled the cross threads to get fringes. This well-balanced school sampler belongs to the beautiful little collection of my friend Margit Guerrein. Thanks a lot!
Price:
chart: € 10.-
Crosses: 149 x 186
Size: 21 x 26.5 cm
Stitches:
cross stitch