WCM 1820
19th Century | Germany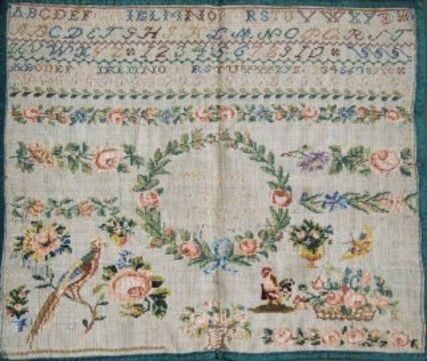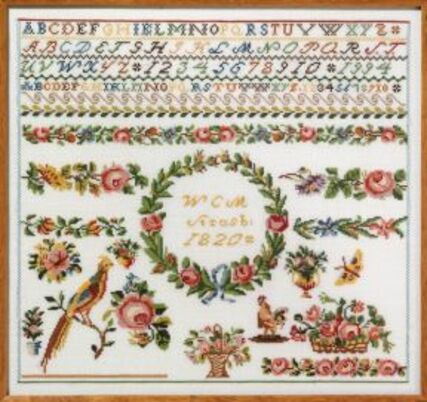 The samplers from the Biedermeier period (1815-1848) mostly have been worked by young women of the upper middle-class in order to fill the time with ornate needlework.
The embroiderer did her "duty" with simple lines of stitches, just alphabets and the numbers 1 to 10, worked in a multitude of colours. The creative designs follow. Many charming Biedermeier motives worked in harmonious shades are arranged in a group round the central motif - the wreath with the ribbon. It is the most important symbol of the Biedermeier period, the symbol of friendship. There the embroiderer has put in her initials and the year. At that time the feeling of close friendship was identified with deep love, people even made a cult out of it.
The flowers, the filled baskets, the vases as well as the beautiful flower edgings particularly represent the rose. It was considered at that time already as a symbol of love and beauty. The intimate relationship to nature also finds expression in the abundance of flowers.
The original sampler is in the Kulturhistorisches Museum in Stralsund. Many thanks to the staff members of the museum for sending me a photo and for their kind support in 1994.
Crosses: 241 x 221
Size: 34 x 31,5 cm
Stitches: Cross stitch, back stitch, Algerian eyelet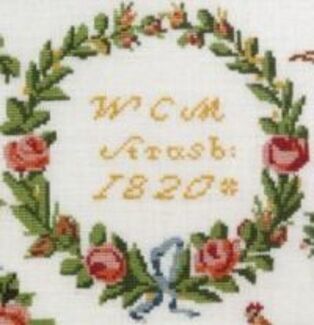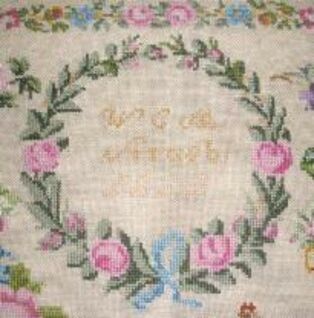 ---
back