Urbanie Baylac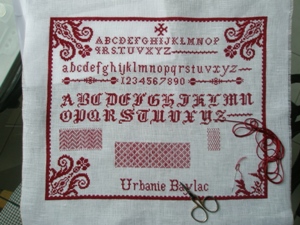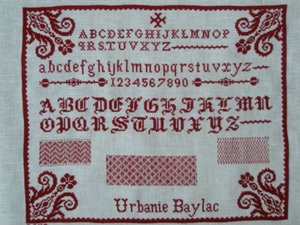 I liked everything in regard to Urbanie's sampler at once: the rich red, the unusual corner motifs and the three simple darning or weaving exercises! Once again, it was evident that every stitcher is able to darn or weave, since the running stitch is the easiest stitch in the world!
For presentation of her work, Urbanie tacked her sampler on to a blue piece of fabric and then practised at stitching the curved border with red yarn. Perfect!
The original is privately owned and displayed in C. Chambras-Gangloff's beautiful book Abécédaire au point de croix: De la toile à la page, published by Arte Libris in 2009.
Price:
chart: € 12.-
Crosses: 212 x 180
Size: 30 x 25.5 cm
Stitches:
cross stitch
running stitch