Therese Suchanek 1884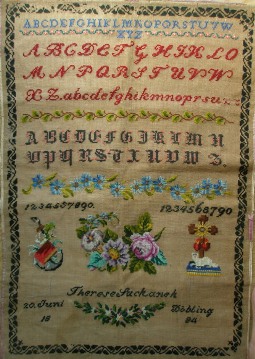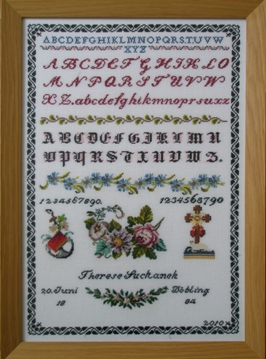 Therese Suchanek's sampler dated 1886 – a beautifully designed cross-stitch work of its time in wool – belongs to the collection of my friend Margit Guerrein now.
Woolen embroidery has been executed with natural colours for centuries. At first the chemical industry made it possible to produce a variety of bright colours and to offer them relatively inexpensive at the end of the 19th century. As the woolen yarn was rather coarse, loosely woven stitching ground had to be offered, too.
The motifs of the Biedermeier period (1815-1845) came to life again and were used in many ways to beautify the home.
Therese comes from Döbling, a suburb of Vienna. She used coarse canvas and a very large palette of embroidery wool, lined her sampler with solid waxed cotton fabric and a fine silk ribbon.
Decisive are the numerous flower arrangements which make the sampler appear delicate. Faith, hope, and love, the three Christian virtues and fundamentals of Christianity, are characterized by corresponding symbols (bible, cross, lamb, flaming heart, anchor).
Price:
chart: € 18.-
Crosses: 221 x 331
Size: 32 x 47 cm
Stitches:
cross stitch