REH 1746

Should I or should I not? This question arose after I had realized that this wonderful motif sampler from Saxony consists of two parts of linen. The top portion is much more finely woven and therefore more motifs fit into the small space. But I had already counted the bottom portion up to the elaborate wide tendril!
Upon careful consideration, and the encouragement of some customers, I introduce this sampler with all motifs and borders to you. In the top portion only, they are a little "closer together".
In the year 1746, "REH" selected motifs by Johann Sibmacher (engraver and draughtsman from Nuremberg) very popular and often stitched in those days and the beautiful edging of Rosina Helena Fürst (draughtswoman from Nuremberg) as basis for her sampler and mixed them with other familiar motifs as the vine, the dovecote, the trees in the vessel, the lion, the cat catching mice.
Small floral motifs of Rosina Fürst's four booklets were artfully "scattered" and many smaller animals, also fruits and vegetables are to be discovered! But most extraordinary are the billy goat and the figure with umbrella in Asian clothes!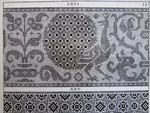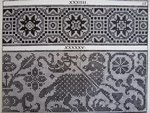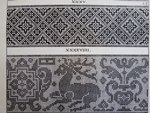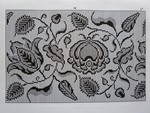 The maker, like many young girls in Saxony at that time, "developed" her sampler from bottom to top. Starting with clear patterns and becoming more courageous she worked her way up. She completed her work with the cartouche containing the initials and the year flanked by two simple figures in peasant clothes.
Saxon samplers of this period are characterized by the fact that they are very long and narrow and are usually divided into sections: a border panel, an alphabet panel and a "free" panel exhibiting many animal and plant motifs and a "personal" reference.
The original sampler is in the Museum of Applied Art Frankfurt. The photo of the original has been provided by the museum (Museum no. 6331/RF 104). I thank Prof. Schneider for his support and Brigitte Waltering for the picture of her beautiful reproduction.
Prices:
chart: € 24.-
Crosses: 178 x 868
Size: 25 x 122.5 cm
Stitches:
cross stitch
back stitch or double running stitch