MV 1692
Frisian Letter Lace - "MV 1692" from Holland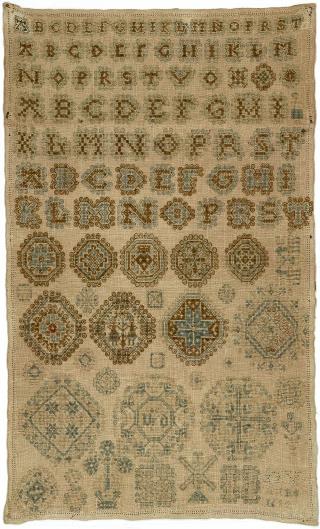 This Frisian sampler is more than 300 years old. Yet it seems quite up-to-date in the design: clear and calm, delicate and tightly arranged at the same time. Everything is "collected" in proper order - with its richly decorated capital letters of four alphabets and its beautiful geometric motifs.
While counting, I realized that the beauty of the motifs can be perceived best when I "confine" myself to the colours initially used by the maker.
I am particularly pleased about the fact that Bhooma Aravamudan brought out on black linen the clear, delicate and modern of this sampler. THANK YOU!
The Merkletterlap "MV 1692" belongs to the large collection of the Fries Museum in Leeuwarden (inventory number: T2009 -031, size: 57 cm x 34.5 cm, silk on linen).
Before stitching, the rectangular piece of linen was hemstitched like many samplers of this area. The sampler comes from Hindeloopen. One feature is the so-called Hindeloop couple in the octagon in typical clothes, with stand-up collars and hat. It is supposed that the initials of the maker's father (URD) are found in the central rosette and that "HH" refer to her mother.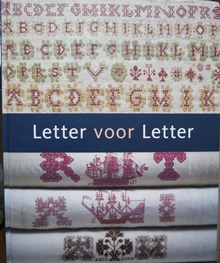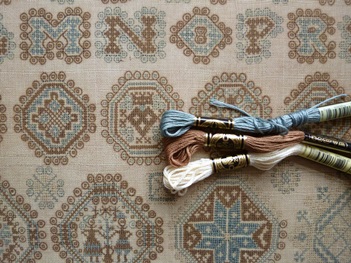 Prices:
chart: € 18.-
Crosses: 232 x 358
Size: 33 x 50.5 cm
Stitches:
cross stitch
Algerian eye
back stitch
Smyrna cross stitch
four-sided stitch