MK 1685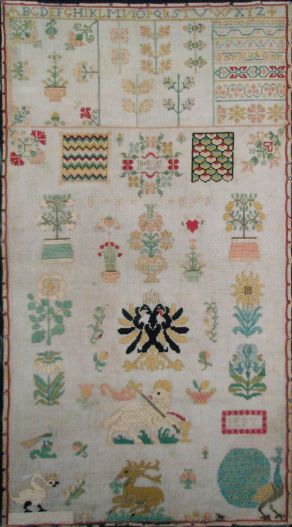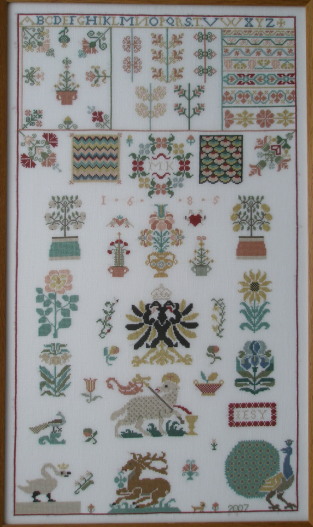 Very precious materials had been made available to the needleworker for her sampler in 1685: She used freshwater pearls for the crown, the monogram and the word "Jesu" and she stitched the borders, corner motifs and the flat areas using nice silk yarns.
Baroque floral designs and typical Johann Sibmacher motifs embellish this splendid sampler from Southern Germany in an unusual longish format – probably from the Nuremberg region.
MK placed the eagle in the centre of her sampler. In the Middle Ages the eagle was called the king of birds and he stood for power and strength. That is why he often can be found in the heraldry and as a national emblem. The Holy Roman Empire of the German Nation had a double-headed eagle as a symbol from 1433 to 1803. The eagle was a part of the coats of arms of the dukes of Bavaria, Silesia and Austria, of the margraves of Brandenburg, and of the royal family in Poland.
The sampler is contained in the National Museums Scotland (inventory no. 1685/1963.5; size: 35 cm x 62.5 cm). I thank those members of the staff who made it possible for me to examine the details closely. The photo of the original was kindly placed at my disposal by the museum.
Prices:
chart: € 22.-
Crosses: 229 x 409
Size: 32.5 x 58 cm
Stitches:
cross stitch
back stitch
Algerian eyelet