MHL 1685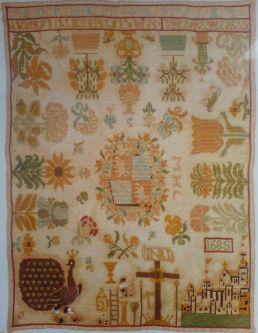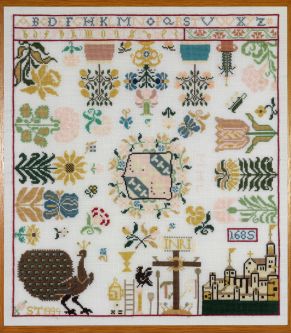 MHL – one of many unknown embroiderers of samplers has been hidden beneath these initials for centuries. This secret was revealed by our cross stitch companion Mr. R. Lippeck several years ago:
- The coat of arms belongs to the Löffelholtz family, a noble family of ancient lineage from Nuremberg.
- Maria Helena Löffelholzin von Colberg" is mentioned in a register of the higher nobility at Nuremberg. The embroiderer was born on September 17, 1648 and died unmarried on May 28, 1689. At the age of 37 she worked this marvellous so-called Nuremberg sampler.
Many important museums own these early samplers, which often have in common the following things:
- Generally they have a nearly square form.
- They are worked in hemstitch and buttonhole stitch at the edge.Worked in the two-sided Italian cross stitch, the back looks nearly in such a way like the front.
- Often one can regard the sampler from several sides.
- The use of flower sprigs, coats of arms, vases, buckets and "Sibmacher motives" (peacock, deer...) was very popular, just in the same way as the Garden of Eden, the fountain, the heavenly Jerusalem or the crucifixion with the Instruments of the Passion.
- In addition these samplers are particularly noticeable by rich colouring, the diversity of stitches and a wide range of patterns.
- Uncommon are Adam and Eve with the apple tree, angels, the couple dressed in the fashion around 1600 (Sibmacher's model book), pieces of furniture.
The original sampler is in the Museum für Kunsthandwerk, Grassimuseum Leipzig. Photograph by courtesy of the museum - inventory number 1232.
Price:
chart: € 18.-
Crosses: 220 x 244
Size: 31.5 x 35 cm
Stitches:
cross stitch
back stitch