Mary Wigham 1790
18th Century | Great Britain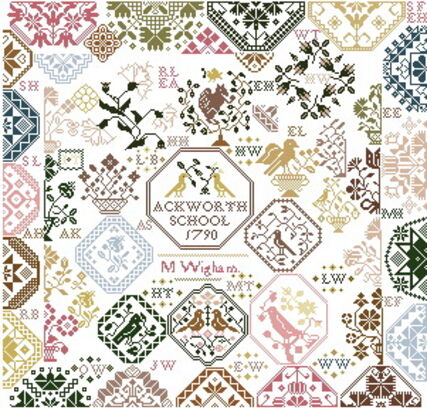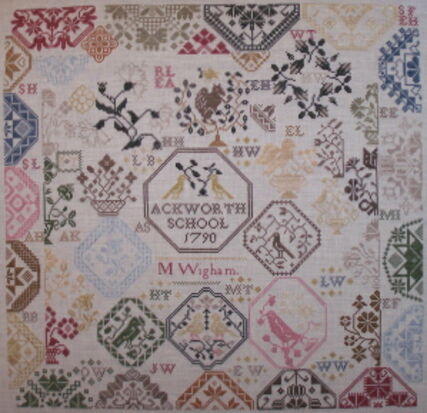 "The fascinating thing about samplers is that they are much more than just antiques. They do not only have a nostalgic value but also a vivid practical one. They were made to be copied. They are, what their Dutch name suggests, 'Merklappen' – stitched notes, if you like. And as samplers do not become obsolete like technical instructions in the course of time, we are allowed to use them today as they were used in those days. (…) Samplers that cannot be copied lose their vividness as time goes by. And that would be a pity indeed.
The antique samplers are the actual patterns, the designs only are magnifying glasses to make counting easier." Quotation: Leszner, E. M.: Stickmustertücher, Rosenheim: 1985.
This is Donna Lemos' favourite Ackworth Quaker. Donna used Lakeside Linen 40 ct Luna and an HDF conversion of her own.
Along these lines, I would like to present Mary Wigham's sampler after nearly 220 years: a very beautiful, colourful medallion sampler worked on fine linen – with a large number of scattered initials of her girlfriends/schoolmates, reflection of her girlhood education, a snapshot of her close relations.
Mary attended that Quaker school in Yorkshire from 1788 to 1791, her family came from Pontefract/West Yorkshire.
Mary's almost square sampler is one of the few school works in the springtime of Ackworth needlework. It has substantial similarity in Hannah Hick's sampler of 1789. Maybe the two girls have worked on them for a whole school year and finally, in 1790, one another marked down the initials.
The original sampler is in the collection of the Ackworth School Museum. It measures 30.5 cm in height and 33 cm in width. It was worked with silk thread in many colours on linen. The pattern is based on a picture in Betty Ring's gorgeous book "Girlhood Embroidery II".
Karen Bugg from Pennsylvania was so happy to stitch Mary and enjoyed every minute! She is stitched on 40 ct cream newcastle linen. Karen converted the colours I suggested to Vikki Clayton's Hand-Dyed Fibers.
Crosses: 299 x 294
Size: 42,5 cm x 41,5 cm
Stitches: Cross stitch, gobelin stitch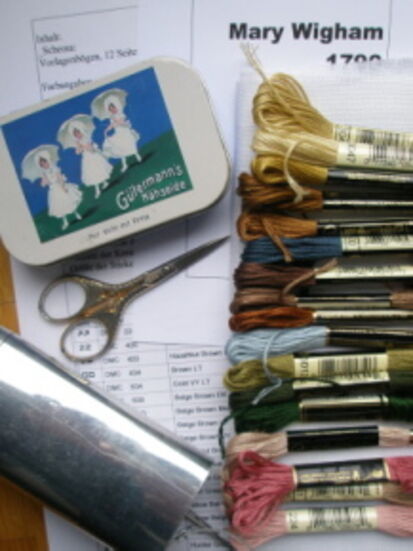 ---
back