Mary Good 1841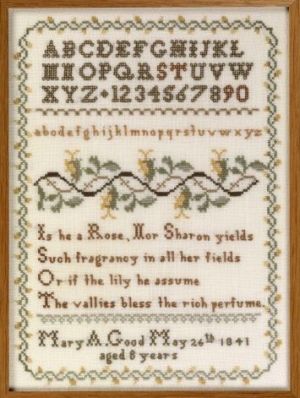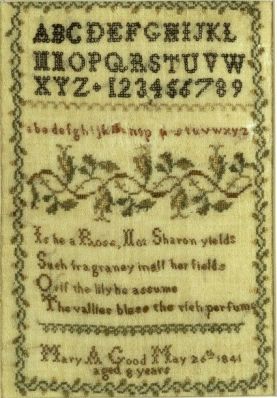 Little Mary Anne Good from Ireland was given a difficult task at the age of eight – like many girls at that time: to work her own sampler with different kinds of stitches on fine woollen fabric.
The teachers used a handbook with practical examples, e.g. a completed sampler, in needlework classes for the education of the poor in Ireland. Mary Anne used this pattern as an obedient and diligent girl, but also modified it by stitching a verse referring to the Rose of Sharon in Song of Solomon, Chapter 2.
Mary Ann Good was born in 1833. She was the second child of Richard and Elizabeth Good who farmed about 200 acres in the parish of Kilbonane, in the south of County Cork in what is now the Republic of Ireland but was, until 1921/22, part of the United Kingdom.
The question of religious affiliation has always been a matter of extreme importance in Ireland and is the root cause of so much conflict over the years. The indigenous population, largely Catholic in persuasion, have lived uneasily together with a significant minority – in southern Ireland – of incomers who were mainly Protestant and English. On the whole the two groups resisted integration through inter-marriage and the curse of bigotry maintained the divisions right through to the present day. An example which illustrates the degree of bigotry existing as late as 1912, is included in Mary Anne's brother Richard's 'Last Will and Testament': "…I make it a distinct and strict condition that any child of mine who shall become a Roman Catholic or shall marry a Roman Catholic either before or after my death, shall forfeit and lose every benefit under this my will."
Mary Anne married William Wood and came to live at Coolculitha, a farm situated about half way between the city of Cork and the market town of Bandon. Her own children were all brought up at Coolculitha. The three girls performed the usual household tasks as well as some of the outside farm tasks such as milking the cows, sorting potatoes, looking after poultry and, above all, making butter which was an important item of produce for sale at Cork butter market – annual butter production, at Coolculitha, was in the region of one ton, from a herd of about 18 cows.
Mary Anne had a very close relationship with her son, Richard, who was given an academic education at Bandon Grammar School and who went on to read Classics at Trinity College, Dublin. He was appointed classics master at Cork Grammar School where he spent his working career teaching Latin and Greek.
Mary Anne had many interests. Apart from helping her daughter Elizabeth to bring up the grandchildren, who also grew up at Coolculitha at the turn of the century, she was a very keen gardener. She planted vegetables for household use and has recorded in her diaries not only the dates when the seed or plants were sown but almost always, their variety names, such as 'Beauty of Hebron' and 'Champion' potatoes. She went for walks collecting wild plants and recorded the arrival of migrant birds such as swallows, cuckoos and corncrakes in her diary. She supervised the planting of shrubs and ornamental trees and was an expert bee-keeper.
Compiled and written by Norman Good
Price:
chart : € 8.-
Crosses: 123 x 163
Size: 17.5 x 23 cm
Stitches:
cross stitch
Algerian eyelet
gobelin stitch
square stitch