Martha Deane 1811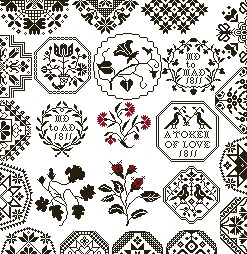 The maker of this demanding and geometric medallion sampler stitched a piece with a maiden-like touch: The central blooms are worked in red!
Martha Deane was one of three daughters of a Quaker family from Hackney, London. She was born on July 11th, 1797 and attended the Ackworth School between 1805 and 1811. Her two sisters Mary A., born 1794, and Maria, born 1802, attended Ackworth as well.
Probably Ann Davies – see Ann 1807– dedicated her medallion sampler to her friend Martha Deane and it seems that Martha dedicated her piece to Ann vice versa: "A Token of Love". Both were in the same class at the same time and no other student had these initials.
The initials "MAD" on Martha's sampler probably refer to her older sister, who went to Ackworth School at the same time as Martha. The original needlework has the size 69 cm x 69 cm. It is privately owned.
Donna Lemos from Rhode Island has sent a photo of the completed Martha Deane done in a dark green and a bit of pink. She used Vikki Clayton's HDF Imperial Green (Taro Leaf) on 34 count linen Oaten Scone.
Price:
chart: € 18.-
Crosses: 249 x 256
Size: 35.5 x 36.5 cm
Stitches:
cross stitch