Margaret Kay 1842
19th Century | Great Britain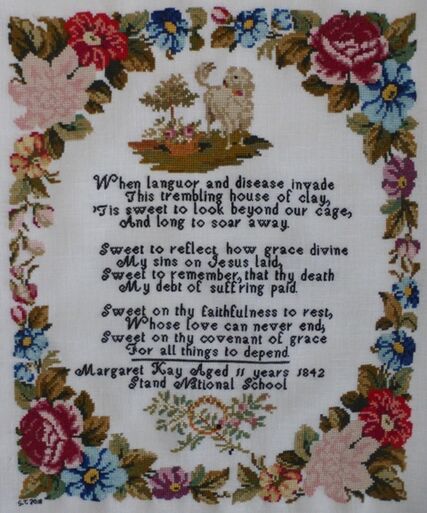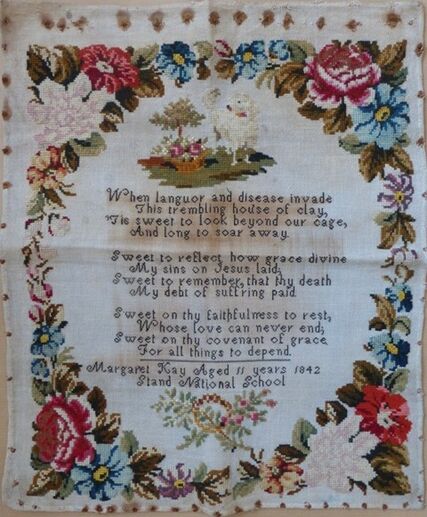 The Biedermeier period with its marvellous hand-coloured needlework patterns is "in full swing". In Berlin, the centre of this fad, more than 20 publishers deal with them in the heyday between 1840 and 1850. Already 14,000 individual sheets have been published by 1840.

These sheets were exported to England and America as well and have been known by the term "Berlin Woolwork". Has Margaret Kay got her two beautiful corner motifs from this offer?

Presumably in 1842, she attended a private and / or charitable school for girls. Was she allowed to borrow the patterns there?

Her sampler is clearly arranged for an eleven-year-old girl. Two corner motifs, which were elegantly "mirrored", form the framework for a three-versed hymn. While she stitched all motifs in wool, the text was worked in fine silk over one thread.

In this time of industrialization (poverty, illness, hygiene problems), people increasingly sought explanations and help in their need with God.

I am grateful to Jamie Hammer Quiroga for her information on the text. These are words from a hymn titled "When languor and disease invade" by Augustus Montague Toplady, an English writer who also wrote the more famous hymn "Rock of Ages". This hymn was first published in 1780 , but has faded out of use since the 1950s. And thanks a lot to Ginny Kellar for her support in locating the place. Stand is a hamlet in North Lanarkshire, Scotland first mentioned on a map in 1596.
Crosses: 182 x 220
Size: 26 x 31 cm
Stitches: Cross stitch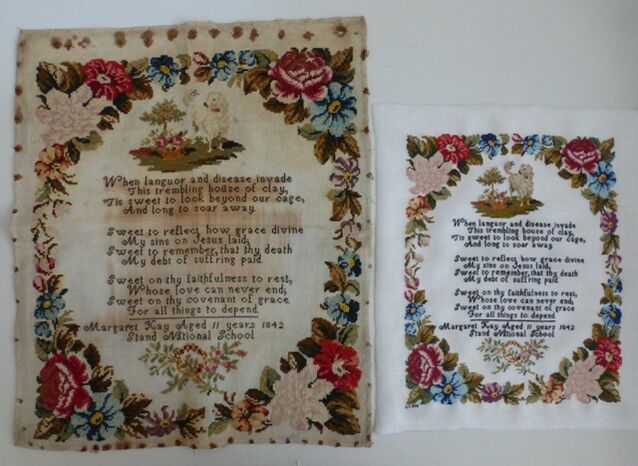 ---
back