M. Levy ca. 1840
19th Century | Germany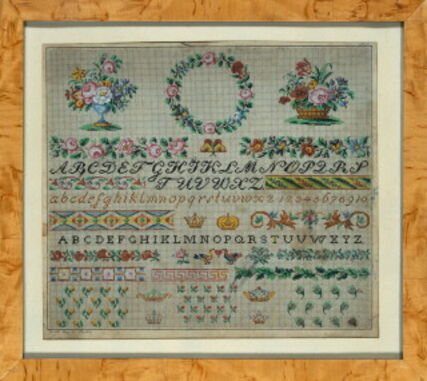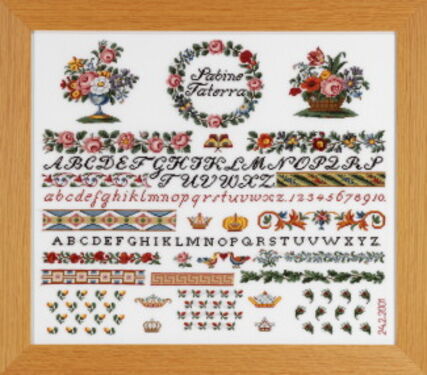 This hand-coloured embroidery pattern of the Berlin company "M. Levy" from the Biedermeier period (1815 – 1848) is something very special: It is a complete sampler and a unique design of an unknown artist!
The one who has designed the pattern, he is only known in a few cases. Most artists remained anonymous. The publisher with address was mentioned every time, and the sheet was numbered. No other company gave instructions for such a pattern to be done.
Berlin was the world's most important centre for coloured embroidery patterns at that time. There were more than 20 publishing companies in the height between 1840 and 1850! Some of them exported their patterns to England and America (very popular there as "Berlin wool work" up to this day).
The production of a needlework pattern was very expensive and time-consuming: from the colour design of an artist to the transfer into a grid with appropriate symbols for the intended colours, up to the colouring – mostly done by skillful homeworkers.
The middle-class women of that era needed a tremendous amount of patterns for the many things in the household that could be embroidered, knitted, or crochetted: for cigar and spectacle cases, for boxes and cans, envelopes, book and sofa covers, tobacco pouches and slippers, for cushions and travel bags, for braces and napkin-rings, handbags, picture frames, bell pulls and baby hats – they needed braids, tendrils, borders and scenes.
Often, a sampler was worked using individual motifs and alphabets, even by different publishing companies, as a visible and proud proof of the taste and skill of the bourgeois housewife.
This pattern apparently has not been used for almost 170 years! Maybe I was the first, who worked a sampler with her own colours and stitched her name into the wreath.
I am happy to present this pattern here. I would like to thank the owners of "SPITZE – Alte Bekleidung, Handarbeiten, Accessoires von 1860 – 1960" in Berlin-Charlottenburg, Mr. Mayr and Mr. Noltekuhlmann.
Crosses: 290 x 250
Size: 41 cm x 35,5 cm
Stitches: Cross stitch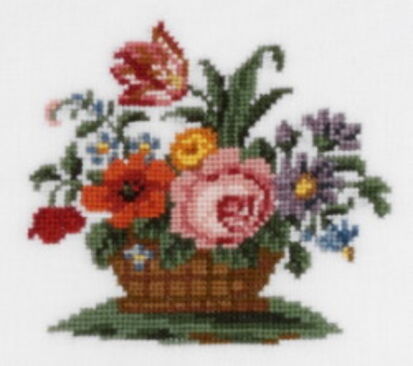 ---
back