M. F. Tucher 1696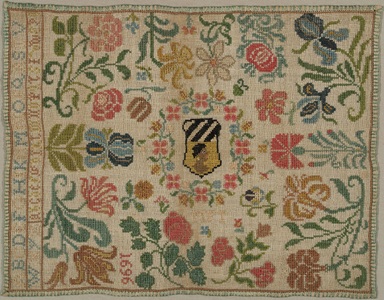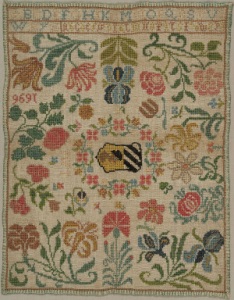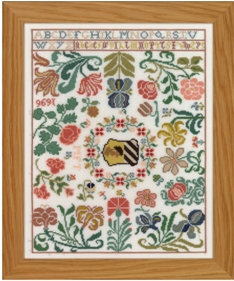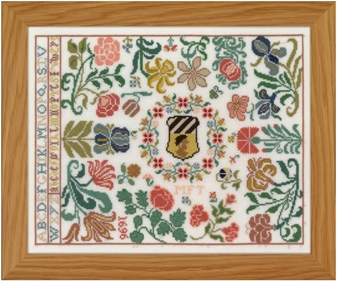 You may look at it from whatever angle you like, you will find out "MFT 1696" is a fabulous sampler.
The coat of arms belongs to an ancient patrician family in Nuremberg. The name Tucher is mentioned for the first time in 1309.
I am very grateful to the staff of Nuremberg City Archives for having found out who hides behind the initials "MFT". Maria Felicitas Tucher (1650-1731), daughter of Johann Georg Tucher (1613-1674) worked this perfectly designed sampler at the age of 46 years - still unmarried. Baroque flowers wind around the family coat of arms, the bright silk colours have not faded in more than 300 years. Undamaged, it became property of the Museum of Fine Arts Boston, Massachusetts (inventory number 43.962) as part of the Elizabeth Day McCormick Collection.
Who were the Tucher?
_Between 1340 and 1806, the Tucher family was represented as a patrician family of influence within the Council of the City of Nuremberg.
_In the 14th century, the prestige of the family increased through marriage alliances.
_In the 15th century, they made contact with rich merchant families and they built the "Tucher Trading Company".
_At the end of the Middle Ages and in early modern times, they maintained trade relations across Europe – including the saffron trade – and were among the richest merchant families in the city of Nuremberg.
_In the year 1598, the Tucher family acquired Simmelsdorf manor as family seat and were known as "Tucher von Simmelsdorf" from now on.
_This name was acknowledged as a title of nobility by Emperor Leopold in 1697. The acquisition of property was continued.
_The family provided mayors, diplomats, a merchant in Antwerp, builders, and a church law professor. Albrecht Durer painted three family members in 1499. From 1961 to 1989, the image of Elsbeth Tucher by Albrecht Durer was shown on the 20 mark banknote in the Federal Republic of Germany.
_The history of the Tucher brewery started in the year of 1672 with the family of the Barons of Tucher. In 1855, when the independent city of Nuremberg had long since become part of the Bavarian Kingdom, Siegmund von Tucher acquired the "Royal Bavarian Brewery of Wheat Beers". Until 1898 it remained a private brewery, a roaring success began.
_"Tucher Castle" – the former residence of the family – is a museum for the history of the Nuremberg merchant dynasties now.
Prices:
chart: € 18.-
Crosses: 166 x 214
Size: 23.5 x 30.5 cm
Stitches:
cross stitch