Jenny 1904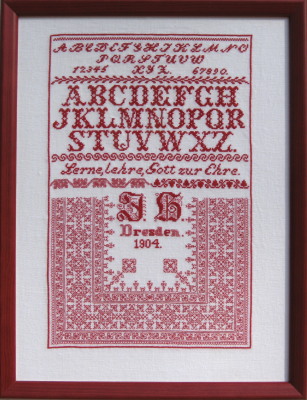 Jenny Haemsch, born in Bautzen in 1874, lived without training and occupation - like so many women of her time - in the parental home. After her father's early death and due to the worries for her ill mother she began her studies as a needlework teacher at the teacher training college with 25 years.
J. H. passed her exam as a teacher at a vocational school in the year 1904. She presented to the examining board 30 items of her work, 25 of them remained preserved in a cardboard box made for it, carefully packed between tissue papers and tied with silk ribbons. Fifteen works carry small name cards fastened with a bow and provided with appropriate numbering.
The sampler - called marking sampler - carries number 11 in the list of examination works:
1 Knitting pattern string 2 Children's socks 3 Stockings 4 (a, b) Stockings for repair work 5 Crochet sampler 6 Crochet patterns 7 Colour crocheting 8 Canvas sampler 9 Sewing sampler 10 Hemstitch sampler 11 Marking sampler 12 Darning sampler 13 Mending sampler 14 Patching sampler 15 Multicoloured patch 16 Flannel patch 17 Muslin patch 18 Tulle 19 Laundry book 20 Paper linen 21 Woman's vest 22 Man's vest 23 Machine sewing sampler 24 Shirt 25 Embroidery sampler 26 Marking book for tailoring 27 Blouse, trimming 28 Bedcover in point lace work 29 Silk cover 30 Bobbin-lace
J.H. worked near the city of Dresden. She especially gave lessons in needlework until the 63rd year of her life. She became 96 years old.
The original sampler is in the Wolfgang-Bonhage-Museum in Korbach. The museum received all examination works with the estate of a cousin of J.H. Its completeness is very rare in the German-speaking countries and therefore this collection was presented in the exhibition "Needlework" in the year 1990.
The original sampler is 48.5 cm high and 35.5 cm broad. It has the inventory number 02.41.221.
Price:
chart: € 14.-
Crosses: 170 x 261
Size: 24,5 x 37 cm
Stitches:
cross stitch
square stitch
backstitch