Haubarg 1783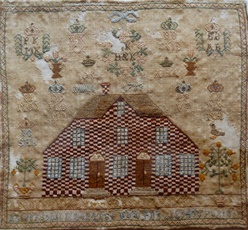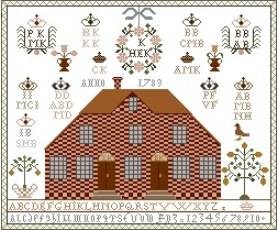 This unusual sampler has been restored particularly caring and gentle in order to save it. Despite the deterioration one could recognize its uniqueness: a two-door house - probably a "Eiderstedter Haubarg" - on a sampler, dated 1783!
Eiderstedt is a North Frisian peninsula in Schleswig -Holstein. Dutch Mennonites settled there in the 16th century. These people from West Friesland brought a turnaround in agriculture - from the fattening of oxen to the dairy industry.
The "Haubarg" was built as a new form of farm house, a haystack. People and animals lived under one roof in separate rooms for centuries (living rooms = "Döns", sleeping bunks = "Alkoven", stables = "Boos" for horses, cattle and sheep. The Characteristic often was a 15-20 metres high thatched roof! The construction of the "Haubarg" made it resistant to the forces of nature such as severe storms and storm tides. Though the walls were pushed in, the roof remained undamaged!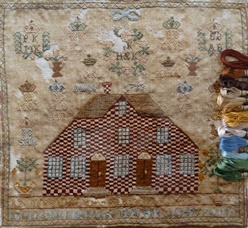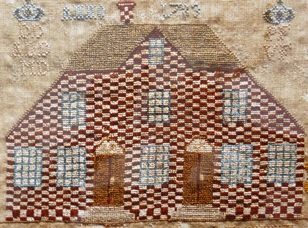 A wreath is hanging at a ribbon from the top of the sampler. On the right-hand side there are monogram pairs of the "B" family - crowned or in a cartridge, on the left those of the "K" family. It seems as if the sampler was made for a special occasion, i. e. a wedding!
Prices:
chart: € 16.-
Crosses: 251 x 209
Size: 35.5 x 29.5 cm
Stitches:
cross stitch
double running stitch
The original piece (inventory number AB 1656) is owned by Altona Museum, Hamburg. Many thanks to the museum staff for their support.