Hannah Searls 1808
19th Century | Great Britain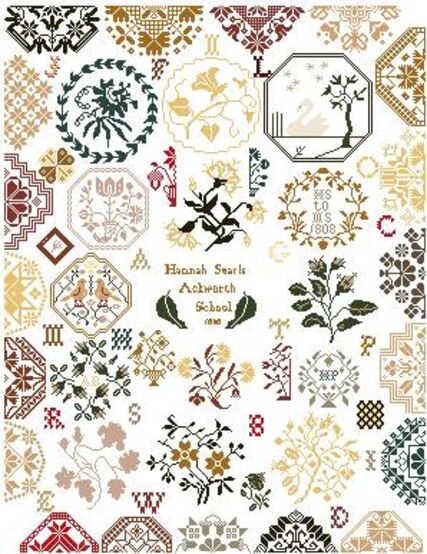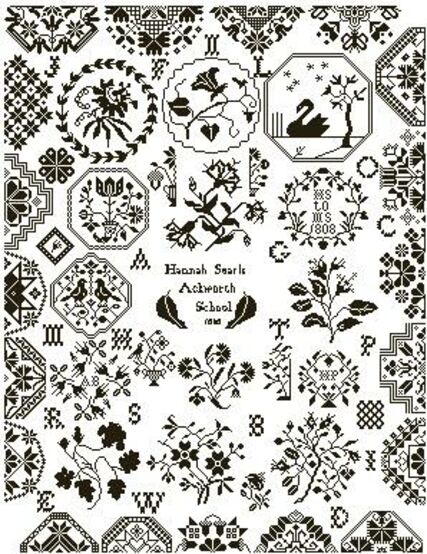 Hannah Searls' sampler is a gift of an anonymous donor to the City of Bristol Museum & Art Gallery from 1949.
Hannah worked her typical Quaker sampler attending Ackworth School, Yorkshire, in 1808: tightly stitched with silks in wonderful colours on exceptionally fine woollen ground. It contains a variety of geometric and floral motifs, medallions. Tall individual letters and initials are scattered wherever space permitted. She placed her name in the central portion, two stylized leaves on either side of the school's name and the year underneath.
Again and again, it is amazing to see how accurately the motifs were positioned, neither intertwining nor overlapping. How well-proportioned and harmonious as a whole!
The original work measures only 43cm in height and 34 cm in width (access number: 1949 N 3923). The sampler was presented to the public in the exhibition "The first efforts of an infant hand" in 1983.
The pattern is based on the pictures in the catalogue and on a calendar page from 1991.
Crosses: 294 x 381
Size: 41,5 cm x 54 cm
Stitches: Cross stitch, petit point (tent), worked over one thread of linen, Algerian eyelet
---
back