Eugénie Pays ca. 1880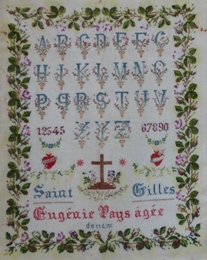 Sometime or other Eugénie's sampler was "unloved" – the floss moth-eaten, speckled, frayed, crumpled and damp had let the colors run. Thus "Eugénie" came to me. A bargain price on ebay, because no one wanted to have the sampler.
A little treasure. A beautiful rose pattern repeat, an enchanting French alphabet and two flaming hearts with symbolic content. Eugénie Pays of Saint-Gilles in France was 11 years old when she was executing her sampler with thick woolen threads on "airy" fabric. Definitely she was helped herself by someone to customise the design.
Probably, this sampler was created before 1882, since until then the Catholic Church supplied school education. This is the background on which the compulsory education was generated and the state took over the task.
In all religions, in concerns of the heart the Almighty is troubled, asked for help and protection and also received thanks for anxiety, accidents, illness, love, family, future, ... Here we see the loving hearts, ancient symbol of love, of Jesus and the Mother of God.
The heart with the crown of thorns stands for Jesus' heart, roses in the heart symbolise the love of Mary, sometimes pierced by a sword.
Popular piety gave rise to many variations of flaming hearts: on pictures in churches, on bridal wardrobes, double beds, votive offerings of pilgrims and also on French samplers.
Presumably, the Sajou company transformed these motifs into simple needlework patterns and brought out the alphabet.


Prices:
chart: € 22.-
Crosses: 285 x 370
Size: 40.5 x 52.5 cm
Stitches:
cross stitch