Eliza Trusted 1803
19th Century | Great Britain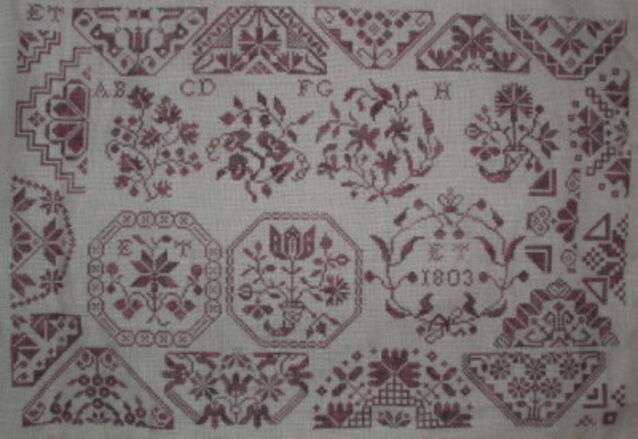 Donna from Rhode Island has finished Eliza Trusted 1803 and used 35 ct lambswool and Vikki Clayton's rum cherry.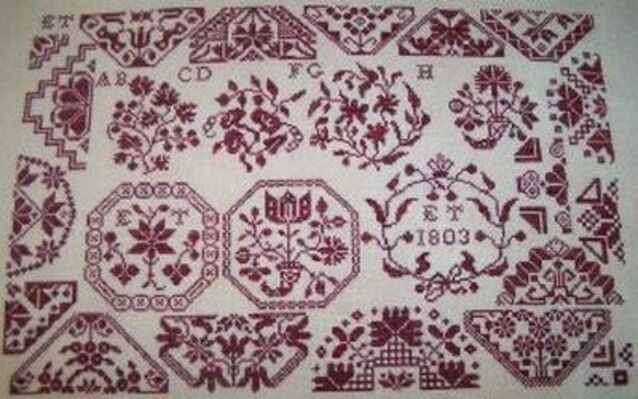 Karen from Pennsylvania has stitched Eliza on 40 ct Lakeside Linen - Luna - using a mystery spool from Vikki Clayton.
E.T.'s – probably these initials belong to Eliza Trusted – sampler, worked in deep-red thread on linen, is very unusual: It is small and precisely worked, the original piece measures only 20.3 cm by 28 cm. The sampler is privately owned.
In order to save the little space on the ground, the needleworker alternately turned the half medallions of the border treatment. She set her initials into a motif unknown to Ackworth aficionados, a crowned wreath. In his book "Samplers" A. Colby compares the Quaker motifs on the pin-cushions of the two families Quertier and Trusted.
Probably Eliza attended the Quaker school in Milverton/Somerset.
Crosses: 266 x 179
Size: 37,5 x 25,5 cm
Stitches: Cross stitch, gobelin stitch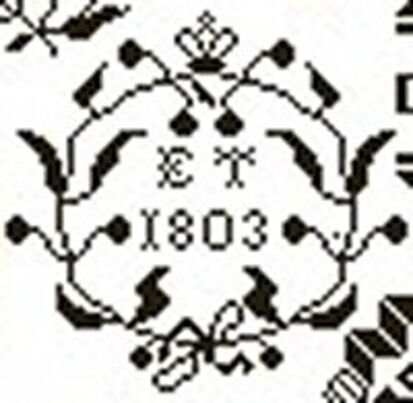 ---
back