Elisabeth 1867
19th Century | Austria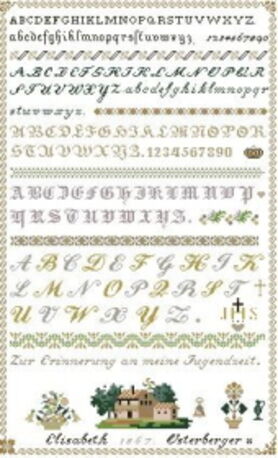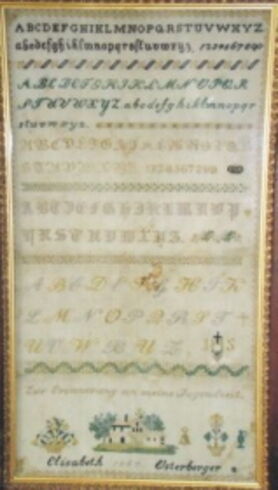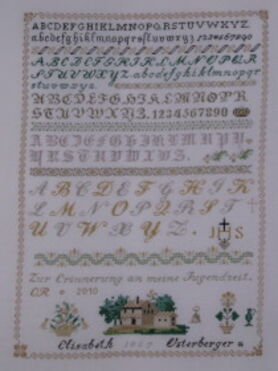 This sampler was owned by my friend Marina. I thank her for the chance to present a second piece of her collection to the public.
Elisabeth's school sampler has been carefully worked with silk on very fine linen. From border to border her work became more difficult. The two-coloured flower alphabet and the monogram "IHS" – executed in petit point – are the highlights.
The needleworkers' preference during the Biedermeier period to select motifs with natural shades comes to life again in the buildings a generation later, but worked in this case over 4 x 4 threads. The "smaller" windmill seems to lie in the distance.
Traditional motifs such as a basket of flowers and a flower pot, birds, a jug, and a bell are placed.
The existence of similar samplers in different museums and private collections speaks for a classification of Elizabeth's piece to Austria or southern Germany.
Meaning:
"IHS" is
the Greek abbreviation for the name of Jesus,
in the Latin tradition the interpretation of Jesus Hominum Salvator = Jesus rescuer of mankind,
the popular interpretation: Jesus Saviour and Beatifyer.
The "IHS" monogram was practically applied among other things on home altar-cloths, consecration basket covers, and blankets used at alpine dairy farms.
The veneration of the Sacred Heart has been celebrated in rural areas up to this day. The feast of the Sacred Heart happens on Friday or Sunday past Corpus Christi Day since 1765.
Christel Ross sent me her Elisabeth.
Crosses: 255 x 426
Size: 36 x 60 cm
Stitches: Cross stitch, gobelin stitch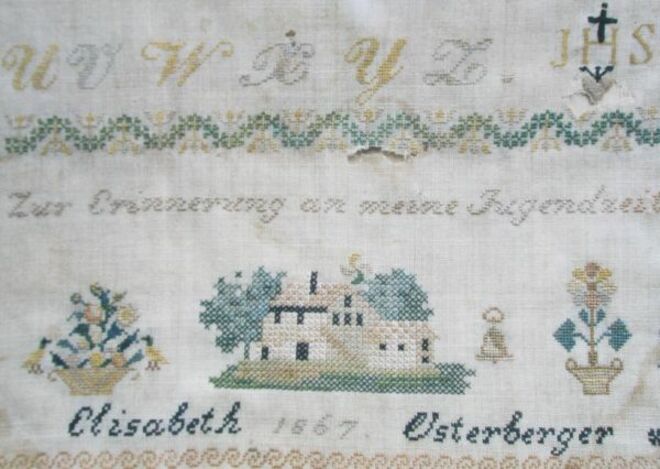 ---
back