Edward 1874
The Bristol Orphanage Museum tried to trace the girl named Mary who probably stitched the sampler.
The sampler certainly looks like one stitched at The New Orphan Houses, Ashley Down but unfortunately the museum has been unable to trace the child who had produced it.
The museum has record of 819 girls named 'Mary' who were in the Homes but without the girl's surname it is impossible to narrow it down further. They have tried to link Mary to the other names in the sampler hoping that those names may have been Mary's sisters and brother but this does not seem to be the case. Mary was such a popular name in England at that time. So I decided to name this sampler "Edward 1874".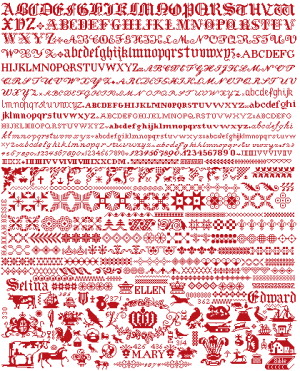 Considering there were thousands of orphans in the orphan houses of George Mueller over the years that had needlework instruction and had to make a sampler in their final year, you come to a huge number of so-called Bristol Orphanage samplers.
Many of these samplers look "good", "industrious" and very "neat". Only in very few you immediately feel the character, the childlike creativity, the joy and even the fun in this work.
"Edward 1874" is one of those samplers! It is exceptionally finely worked and only 36.5 cm high and 28 cm wide.
In the upper half, we see 19 alphabets in beautiful scripts and six sequences of numbers. In the bottom half, we notice an unusual variety of corner motifs and borders. Often only a rapport is stitched, so that many beautiful and different borders can be gathered. Then work turned out well and varied!
In the bottom third, different animals, crowns, names, numbers, objects of the child's interest, houses and boats meet! Gorgeous! At the same time, the strong connection to their own country and God (three ostrich feathers in a crown: coat of arms of the Prince of Wales; the initials "VR": Victoria Regina, Queen Victoria; royal coat of arms with lion and unicorn: United Kingdom; Bible) is conveyed to the admirer.
Many young girls from these homes were domestic employees in bourgeois houses of England after leaving the orphanage.
This sampler (inventory number TM 20180) is one of three Bristol samplers from the St. Gallen Textile Museum, Switzerland. It formerly belonged to the major textile collection of John Jacoby, purchased by the museum in 1955.
Price:
chart: € 24.-
Crosses: 413 x 514
Size: 58.5 x 72.5 cm
Stitches:
cross stitch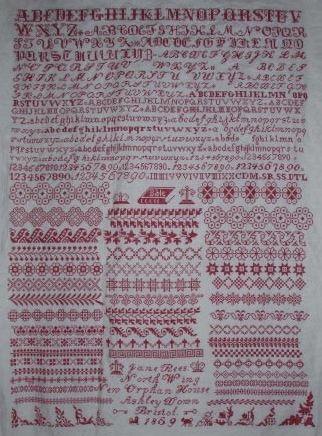 Donna Lemos just wants to share her joy. She finished Jane Rees, the Bristol Orphan sampler. She used 40 ct ricamo and HDF OMG red 1145.