E. V. 1890
19th Century | Belgium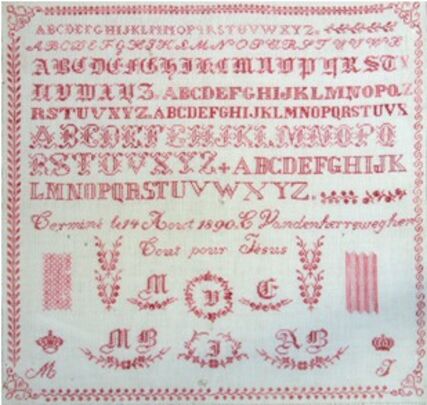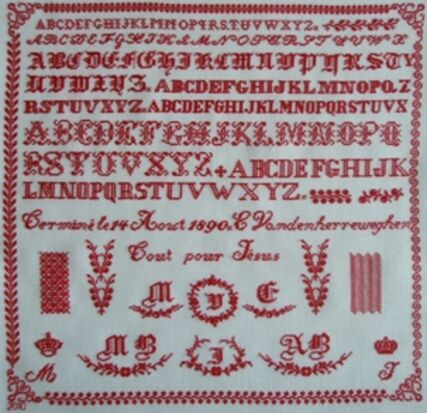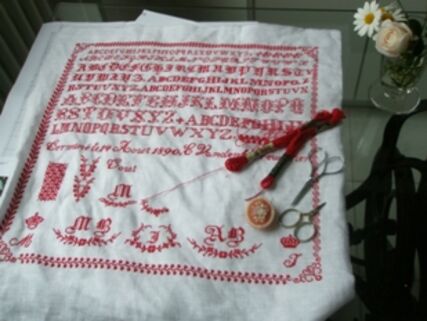 "Tout pour Jesus" – Social institutions of the church have begun early to feel responsible for the upbringing and school education of girls. They took great influence, imparted values and norms, and often replaced the missing home. At the end of the nineteenth century, there was great poverty in many areas of Europe, they offered young girls from poor families the chance to find an employment and to make a living: as a seamstress, housekeeper, needlewoman or needlework teacher.
Samplers from European countries give expression to the bonds with Christian values. E. Vandenherreweghen placed her motto "All for Jesus" in the center design of this fine school sampler through which it is divided into two equal sections. Seven alphabets share the top section and she eternalized her name, the exact date and her motto. She set the initials of parents and other relatives into the cartouche. She crowned the letters "M" and "J" in the corners of the lower portion, they likely represent Mary and Joseph – the crown symbolizes eternal life. Two simple darning exercises illustrate her skill in this technique.
This sampler originates from Belgium. The piece is 40cm wide and 37cm high and is part of the great collection of Har and Mariëtte Verheggen-Penders in the Netherlands. We visited their private museum in the summer of 2010. I am very grateful to both collectors for the chance to present this beautiful work here.
Crosses: 304 x 292
Size: 43 x 41.5 cm
Stitches: Cross stitch, running stitch
---
back