Deborah Cockin 1806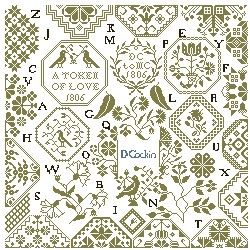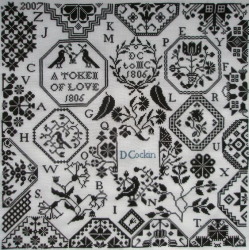 Deborah got a rather rough piece of linen in order to be able to fulfil her schoolwork. She chose just three colours: She worked all Ackworth motifs in a lovely green, the letters of the alphabet in black and her name in blue – bordered by two half flower motifs. To whom she dedicated her sampler – a token of love – she keeps her secret for ever.
Deborah Cockin from Doncaster attended Ackworth School from 1805 to 1808. The original sampler is privately owned.
Donna L. worked her Deborah using 36 ct R&R Irish Creme and Vikki Clayton's Examplar Spinach Delight.
Price:
chart : € 18.-
Crosses: 243 x 243
Size: 34.5 x 34.5 cm
Stitches:
cross stitch
gobelin stitch