Daisy 1899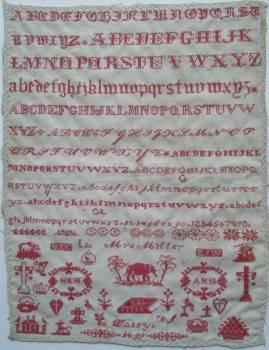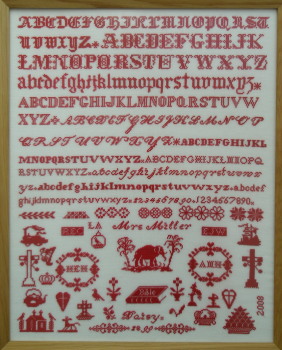 This young girl Daisy remaining unknown to us – there were over 50 girls named Daisy in the orphan houses – left behind something very nice, that is to say a memory: a small, very finely worked sampler from her second home – The New Orphan Houses, Ashley Downs, Bristol founded by George Müller.
Definitely Mrs. Miller was a very important person for Daisy, since this sampler was dedicated to her. A substitute mother? She stitched the initials of her parents in the two cartouches / wreaths, as it was the practice at that time.
This sampler is determined by ten alphabets and two rows of numbers. The lower section was harmoniously composed and balanced. The central section is set up by the fascinating little "Bristol elephant", Mrs. Miller's name, the Bible, her own name and the year of completion.
I am glad to present to you my second so-called "Bristol-elephant", by the way it was taken from pattern No. 102 of the French company Sajou.
The original sampler is owned by the George Müller Orphanage Museum in Bristol. "Daisy 1899" is tiny (26 x 34 cm), it is one of five samplers displayed at the museum ("Annie 1888", "Rhoda Morley 1875", "S. Bailey 1882" and "Rosina Wedlake"). The picture of Daisy's sampler is used with the permission of the George Müller Foundation.
Prices:
chart: € 18.-
Crosses: 260 x 335
Size: 37 cm x 47.5 cm
Stitches:
cross stitch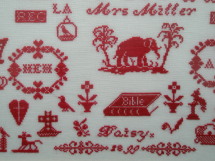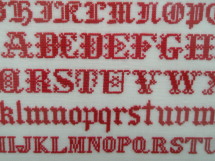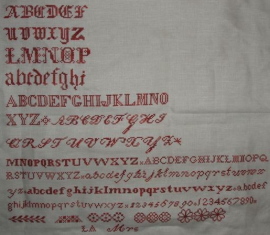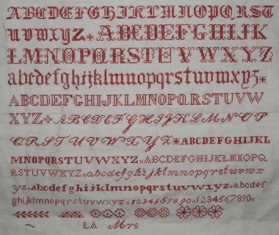 Donna is being working on two red samplers at the same time, Daisy and Metta. Here is her progress on Daisy, it is on 40 ct ricamo and HDF gandy tango.. She just has the bottom to go...