CEG 1737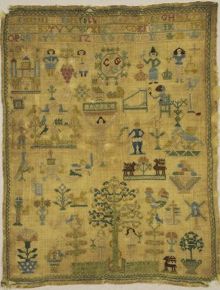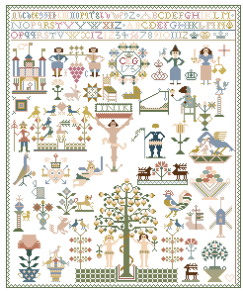 I find samplers that have a story very fascinating: My eyes wandered around this very fine textile work of a little girl, I'm sure, from northern Germany and spotted a variety of traditional motifs, which were considered as instruction of Christian values. Their inherent symbolism, however, often remains concealed.
The central axis is formed by the cartridge with the initials of the stitcher, the year and a "garland of flowers" - the symbol of eternal life, "Jesus at the cross", very unusual here with the initials "INIK" for Jesus of Nazareth King of the Jews and "Adam and Eve" at the tree of knowledge in paradise.
Do you also see "Heavenly Jerusalem" with the key in the door (City of God and of Peace), the "Star of Bethlehem" (symbol of the birth of Christ), "Joshua and Caleb" with a huge bunch of grapes, the "Crown of Eternal Life", the other paradise gardens with deer, the angel with the sword (who fights the devil) and the "Justice"?
Who is the woman with the bird, the creature in the chair, the character with the flag, the person with the spear? I was able to turn confidently to Elfi Connemann and Lorraine Mootz (German Sampler Museum in Celle) for advice!
The virtue of "Hope" is expressed by the addition of a bird and an anchor, the virtue of "Justice" by scales and sword, and the virtue of "Love" (for God and Neighbour) by the pelican tearing open its breast to feed its young and/or the crowned and pierced heart. According to that, I named this wonderful jewel "Virtue Sampler"!
Does the figure with the spear stand for "Courage", the column with the globe for "Faith", the paschal lamb for "Humility"? Can the pitcher (mixing wine and water) be interpreted as the virtue of "Moderation", the billing pigeons as "Gentleness" and the white rabbits (at Mary's feet) as "Chastity"? Can the figure with the hood/crown be Christ ascending to heaven – wafted by his green shroud??
The Fall of Man is often depicted as an ape, a symbol of Evil, Diabolical and Vice. In German and Dutch samplers we sometimes find a spinning ape, sitting on a chair. Here, the ape has an apple in his hand and wears a star cloak.
"Soul birds" populate trees of life, the little fountain tells of the "Source of Knowledge", of the Water of Life, of the symbol of the Holy Baptism. Cloves (formerly in German called little nails) as a symbol of the Passion of Christ and the cock as a symbol of Resurrection were scattered on the sampler – and added things of everyday life (cradle, alcove, chair, squirrels, wind mill, dog)!
I stumbled on this sampler in the Museum of Bergedorf and the Vierlande in Hamburg, it is only 25.5 cm wide and 33 cm high.
Prices:
chart : € 18.-
Crosses: 238 x 286
Size: 34 x 40.5 cm
Stitches:
cross stitch
satin stitch
back stitch