BW 1880
19th Century | Austria



At first glance, I found the beautiful butterfly on a rose twig best. Then I discovered the carnations, vetches, cornflowers, forget-me-nots and the wonderful primrose border, the bouquets, the opulent flower baskets, the exuberant cornucopia, the small scenes and two animal motifs.
More than 30 motifs and an elaborate alphabet of different artists, arranged in a sampler, a feast for the eyes indeed! Balanced and harmonious, worked in many bright colours, with wool in petit point over one thread on coarse fabric. An artistic performance of a probably young woman!
"BW1880": the time of the coloured embroidery patterns has been going on for over 70 years; it started in Berlin at the beginning of the 19th century and finds its culmination in the Biedermeier period (1814-1848). They spread out more and more because of their exceedingly great popularity – even to the United States, known there as "Berlin Wool Work".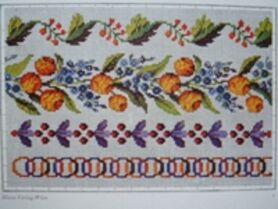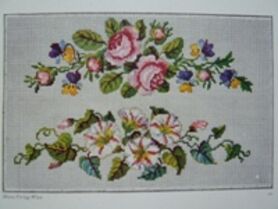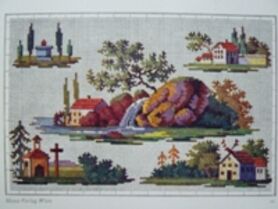 Numerous publishers, mainly in Germany and Austria, but also in the Netherlands and France, have been producing thousands of coloured patterns in different sizes and qualities for different purposes until 1880. Since they were luxuriously made, they were usually expensive and affordable only for a very small circle of women.
In those days, noble women in their mansions were stitching, the well-off women of the patrician homes emulated them: The housework was carried out by employees, so they were in the position to spend their time with "beautiful things", to show taste and skill, and to follow fashion. A fad that lasted for nearly 100 years! Everything your heart desires was embroidered, finely worked in silks or executed in coloured beads, and later in wool.
Regional differences in the samplers are barely visible. That is why Mr. and Mrs. Connemann from the German Sampler Museum in Celle called their first samplers of this kind "Alpine" in former days.
"BW 1880" is a marvellous gift from my husband. He knows best my joy in counting and stitching!
Crosses: 218 x 681
Size: 31 x 96.5 cm
Stitches: Cross stitch
---
back