Brandenburg 1833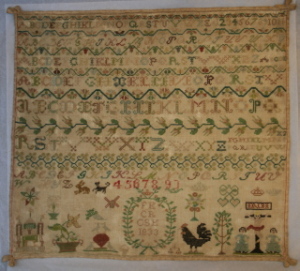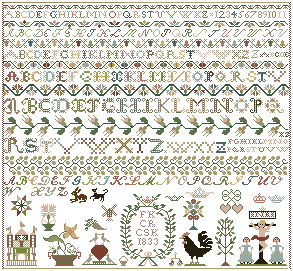 In 1833, little CSK from the Brandenburg Marches, a poor rural area around Berlin, had a selection of almost 30 (!) expensive silk colours to design her very finely stitched sampler.
Her sampler is a particularly fine example for the interplay between tradition and modernity:
- A nice selection of alphabets and borders,
- traditional motifs having symbolic nature,
- and motifs of everyday life will be arranged
- with the big colour choice of the Biedermeier period (1815 to 1848).
A simple crowned flower wreath is the cartouche for the initials of her parents.
Meaning of symbols:
Sky castle: heavenly Jerusalem, God's residence; holy city of Judaism, Christianity and of Islam; representation on many prayer rugs
Eight pointed star: symbolic for Bethlehem
Cock: symbolic for Christ, Christ's Resurrection
Two doves facing each other: concord and peace
I thank both of the textile restorers of the Museum of European Cultures in Berlin who often let me see "Brandenburg 1833", inventory number 18 B 209, so that I was able to choose the varied colour shades.
Price:
Crosses: 289 x 268
Size: 41 x 38 cm
Stitches:
cross stitch
satin stitch

I thank the Museum
Europäischer Kulturen Berlin
and the Verein der Freunde des MEK
for their kind Support.