AVS 1731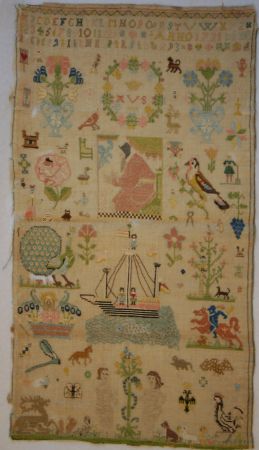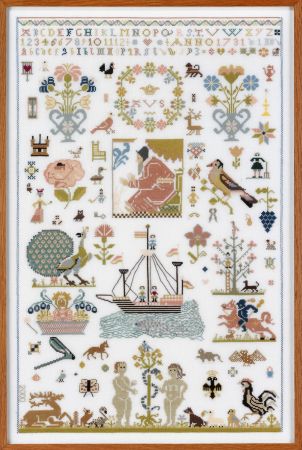 Apparently the needleworker enjoyed so much childlike pleasure at the creation of the sampler that it is passed on to the observer. Most remarkable are the animals from the Garden of Eden facing Adam and Eve worked in different perspectives and proportions.
The countless details that are considered to discover let us regard the sampler for a long time:
- The fish in the water has pink gills.
- St George does not fight the dragon but has a bunny in front of himself.
- The man stands no longer on the ladder, but in the apple tree.
- The Sibmacher peacock struts around a meadow
- and the queen holds a flower in her hands.
The sampler produces calm and harmonious impressions on the viewer because the stitcher has created an upright central axis to her work and she balanced out her motifs on the right and on the left. This sampler exhibits a variety of well-known motifs frequently worked at that time (vases, cartouche, flower basket, the "old man", stag, peacock, St George). Her own designs were arranged in addition (apple harvest, the tree of life between Adam and Eve, sea and fish, ship crew, queen) or existing stitching patterns (St George and the Dragon) were torn apart and reconstructed. Wonderful simple and creative!
Where does this sampler come from or which regional influences were subject to it? The Sibmacher motifs among other things, the symmetrical arrangement and the execution in horizontal rows point to South Germany. But influences might have come as well from the Netherlands, the central axis, the symmetry and the calmness speak for this fact. The numerous profane motifs (piece of furniture, ship, working human beings, domestic animals), the broad rectangle and the bright 30 (!) colours that give the piece a happy appearance point to Northern Germany.
This beautiful, harmonious sampler is dated November 1st, 1731. It is one of the treasures in the custody of the Museum of European Cultures, Berlin (inventory number 1/1994, 2019). It is a part of the estate of the collection Gertrud Weinhold.
Thanks a lot to the members of the staff who trusted me and who let me go to the "Old Man" in order to look for details. This sampler was presented at a guided tour for a group of American women of the Historic Needlework Guild through the museum's custody and I was encouraged to offer a reproduction.
The photograph of the original sampler was made available by the museum.
Prices:
chart: € 24.-
Crosses: 255 x 399
Size: 36 x 56.5 cm
Stitches:
cross stitch
gobelin stitch
running stitch
back stitch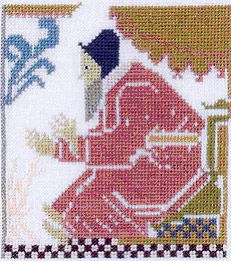 Ich danke dem Museum
Europäischer Kulturen Berlin
und dem Verein der Freunde des MEK
für die freundliche und konstruktive
Zusammenarbeit.