Antonie 1845
19th Century | Germany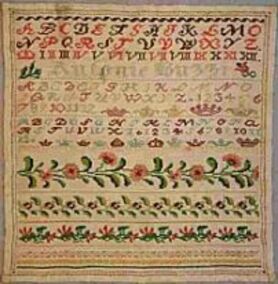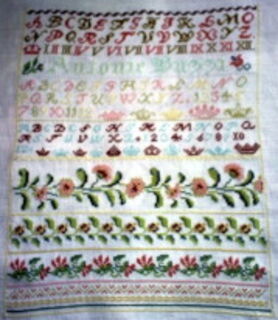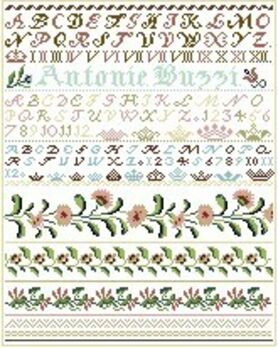 Antonie Buzzi worked her small delicate sampler (approx. 24 x 24 cm) in Dresden/Saxonia probably around 1845 at the end of the romantic Biedermeier period (1815 - 1848). The sampler shows several rows of alphabets and numbers and different beautiful borders and rows of flowers stitched in a few clear colours.
The row showing Antonie's complete name starts with a forget-me-not. How meaningful!
Antonie's cross-stitch sampler is housed in the Museum of European Cultures in Berlin, together with a satin stitch sampler of hers from 1849 (inventory number 18B231).

Both samplers belonged to the large collection of Dr. Friedrich Grossmann in Potsdam until 1934. He sold his collection to the Museum of Folklore in Berlin. In the last years of his life Grossmann examined the history of German and European needlework samplers on the basis of his particularly rich material. His studies still lay the foundation for scientific works dealing with this subject.


Crosses: 163 x 205
Size: 23 x 29 cm
Stitches: Cross stitch
Many thanks to the Museum Europäischer Kulturen Berlin and the Verein der Freunde des MEK for their kind support.
---
back