Amy Hartley 1804
19th Century | New World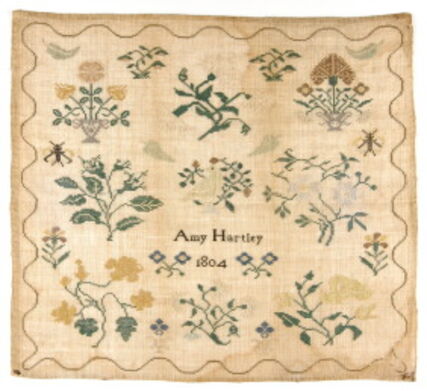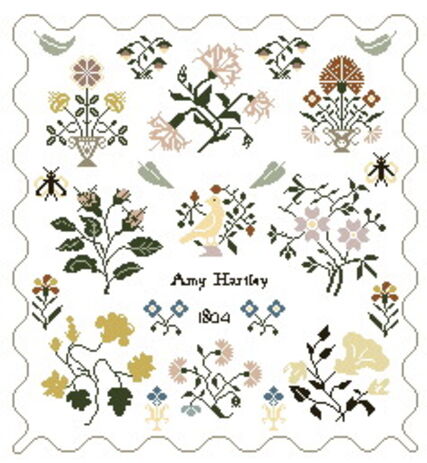 Those who claim to know the typical Quaker samplers will be quite amazed, what picturesque composition has been chosen by little Amy Hartley from Pennsylvania in her needlework classes at a Quaker school in 1804.
No straight lines, nothing simple, no medallions and worked only in one colour, least of all!
A meandering border surrounds a variety of different flower sprigs and filled vases worked in delicate and colourful silks, expensive also in former days. Four pea-green leaves and two bees make it a tender and gentle sampler. She placed her name above a forget-me-not – how unmistakable!
The original was stitched by Amy very carefully with silk on loosely woven woollen fabric, it is 41.3 cm high and 45.7 cm wide. It is contained in the Philadelphia Museum of Art, part of the Whitman Sampler Collection, gift of Pet, Inc. in 1969 (inventory number 1969-288-100).
I thank the museum for help and support. Photo by courtesy of the museum.
Crosses: 226 x 245
Size: 32 cm x 35 cm
Stitches: Cross stitch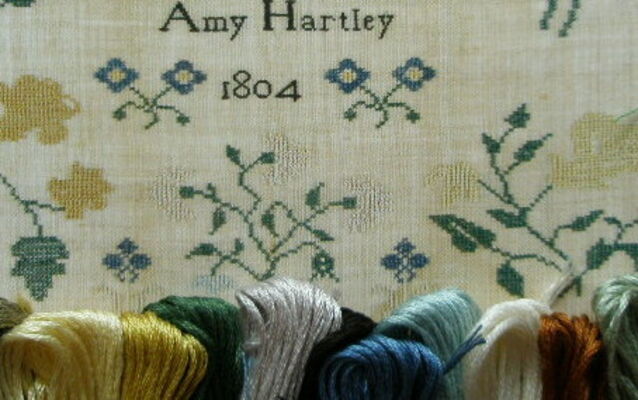 ---
back