Agnes Martha Lisney 1879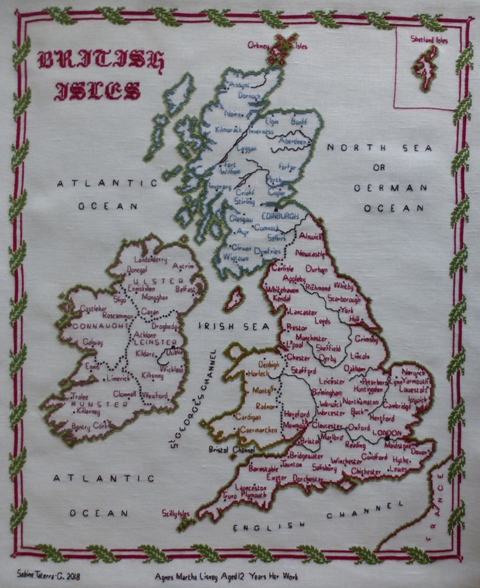 For many centuries, people around the world have been trying to draw the world until maps finally were available in print several centuries ago.

In the 18th century, well-to-do women could afford the luxury of printing these maps on fine silk. In the finest satin stitch they worked the first wonderful map samplers.
It was not until the second half of the nineteenth century that this knowledge was taught at public schools in England and girls were given the task of stitching a map.Little Agnes embroidered - probably in a year's work - her very elaborate map sampler at the age of twelve! In no other country in Europe, this has been common practice.
I first saw Agnes' map sampler, worn out by the ravages of time, many years ago during a visit to my sister-in-law's mother in England and I was thrilled! Unfortunately, I was not able to count the sampler until I met the owner of a look-alike sampler on ebay. I would like to thank Denise Pudge for her spontaneous and great help with her detailed photo.
What do we know about the little embroiderer? Her granddaughter Valerie Wilson let me know something about Agnes: "Agnes Martha Lisney was born in 1867. In 1895 she married Edwin James Jupp who took over as the manager of a 'pub' in Alton, Hampshire (not far out of Surrey). She had two boys, Frederick in 1896 and Arthur Charles (my father) in 1898. In 1900 there was a flu' (influenza) epidemic in Britain and her husband and first son both died. This left her a widow with a two-year-old son Charlie! In those days the widow had no 'rights'; she was expected to return to her family, with any children and only personal possessions. So my father was brought up by his grandmother Lisney in Surrey while his mother worked to contribute to costs. Agnes subsequently married again, becoming Agnes Martha Andrews. I believe she died in 1935."
A special thanks goes to Valerie Wilson and Sue Hertzog for their support and help.
Prices:
chart : € 22.-
Crosses: 315 x 398
Size: 44.5 cm x 56 cm
Stitches:
cross stitch
back stitch or double running stitch