Wobcke Brandts 1796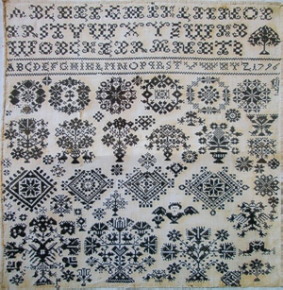 There are only few Vierlande samplers from the 18th century in museums and at private collectors. The tradition of sampler-making existed only for a short period in this area. Those samplers are plain in their motifs, mostly small and some even multi-coloured. Presumably all girls / young women were given instructions, because the elements of these samplers are similar: There is the row of alphabet with name or monogram, rosettes, tree of life and diamonds as well as smaller "fillers".
Wobcke Brandts sampler belongs to the Historical Museum Hannover (inventory number VM 40803) and is 41.5 cm high and 40 cm wide.
I thank the staff of the museum for the chance to gaze at its samplers in amazement in the depot and to present them here.
Prices:
chart : € 18.-
Crosses: 239 x 288
Size: 34 x 40.5 cm
Stitches:
cross stitch
Tradition Meets Modernity