SG 1812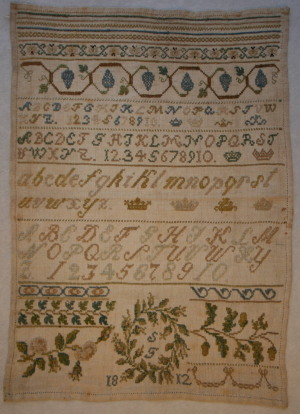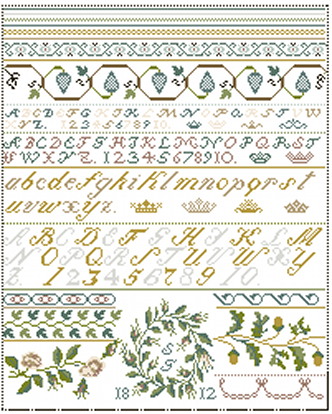 This small, neatly stitched sampler dated 1812 comes from Berlin. The maker finished her clearly arranged needlework exercise, executed in traditional rows, with more and more popular motifs of the time period published in Berlin: a wreath formed by rosebuds, a rose sprig, and a branch of an oak tree. The romantic Biedermeier period (1815 - 1848) is already announced in this portion of the sampler. The piece therefore belongs to the works of the transition period.
SG's sampler was part of the collection of Dr. Friedrich Grossmann from Potsdam until 1934. He sold his collection to the Museum für Deutsche Volkskunde in Berlin (inventory number 18 B 18 N).
I am very grateful to both textile restorers of the Museum Europäischer Kulturen in Berlin who often made it possible for me to look into the sampler depot, to choose the floss colours, and to get information.
Prices:
chart: € 16.-

Crosses: 248 x 198
Size: 35 x 28 cm
Stitches:
cross stitch
back stitch
hemstitch

I thank the Museum
Europäischer Kulturen Berlin
and the Verein der Freunde des MEK
for their kind support.