RET 1714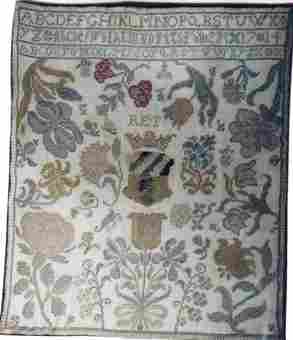 How does a black – a blackamoor – come into a Nuremberg family's coat of arms?
Some Frankonian families and places have head and body of an African in their coats of arms. This does not give expression to the remembrance of the times of the African or American slave trade. Actually they represent Saint Maurice. He lived in Upper Egypt in the 3rd century. As a Christian officer having a legion under his command he refused to worship pagan Roman gods. He was beheaded as the abettor of a revolt and was canonized as a Christian martyr later on. Nearly everything is true in this story apart from the colour of his skin. Maurice was not black. Christian artists of the Middle Ages liked portraying him as a black one. His name means as much as "black". The tincture "black" was called "Mauro" in the medieval heraldry. The word "Mauren" finally became the "moor/Mohr" in the English/German language.
This sampler is in the Museum Tucherschloss in Nuremberg (access number 096).
Regina Eleonore Tucher (1704 - 1749) worked this beautiful sampler at the age of ten! In 1735, she got married to Johann Christ. Imhof. She was the second daughter of Christoph Bertold TUCHER (1667-1731) and his first spouse Clara Magdalena Imhof. (I found this information on the backside of the framed sampler.)
Prices:
chart: € 18.-
Crosses: 193 x 208
Size: 27.5 x 29.5 cm
Stitches:
cross stitch
back stitch