LK 1817
19th Century | Germany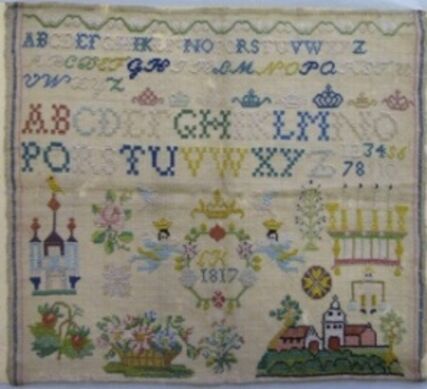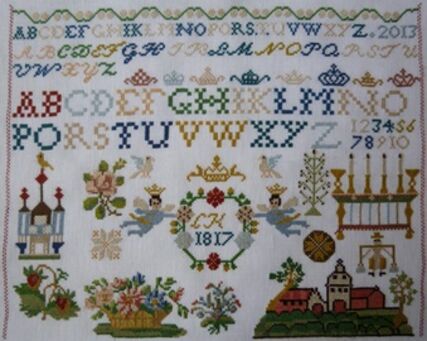 With its bright, "happy" colors and its numerous Christian motifs, this little sampler of the transition period to the Biedermeier (1815-1845) caught my eye. Here is a rose, there is a small bouquet and still somewhere in between a lush flower basket. Of course, the "new era" had found its way into the traditional sampler. Are the motifs just fashion accessories or can they be symbolically interpreted?
Many samplers from northern Germany start with a simple border, different alphabets, several variations of crowns and a series of numbers.
There is a circle in the central portion, here a wreath of flowers held by angels, the Christian symbol of perfection, eternity, and thus eternal life.
The two doves "tell" of love.
The building with its three towers is the "celestial castle", the heavenly Jerusalem, the home of God, the holy city of Judaism, Christianity and Islam. The "village view" with the bell tower in the middle displays the same symbolism: "God as a Mighty Fortress" can be found on Protestant samplers quite often.
I discovered the altar with four candles in the Rostock Museum of Cultural History - even twice. "I am the light of the world. Whoever follows me will never walk in darkness, but will have the light of life." Just as the candle gives itself away to lighting, Christ gave his life in order to be the light for his people. Here the four candles symbolize the four evangelists Matthew, Mark, Luke and John.
The Star of Bethlehem, an eight-pointed star, and the Christmas tree "tell" of the birth of Christ.
The rose was associated with a special symbolism from the Greco-Roman culture through the ages. It stands for beauty, love, fleetingness of life, death, and later also for the elect, for the Queen of Heaven and Earth, the Mother of God: Mary. She is symbolized by the strawberry motif, too.
My special thanks go to the staff member of the museum, who enabled me to study the sampler collection and to present "LK 1817" (Inventory Number D 176) here.
Crosses: 226 x 184
Size: 32 x 26 cm
Stitches: cross stitch, back stitch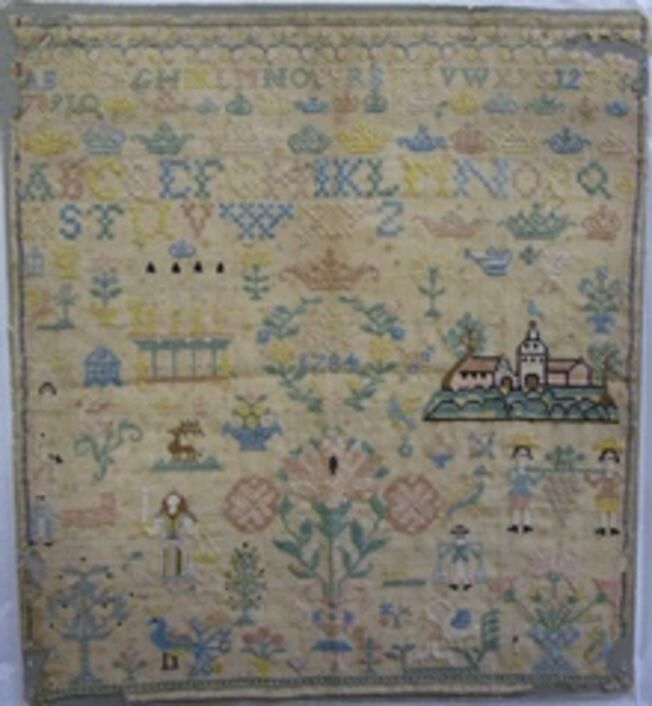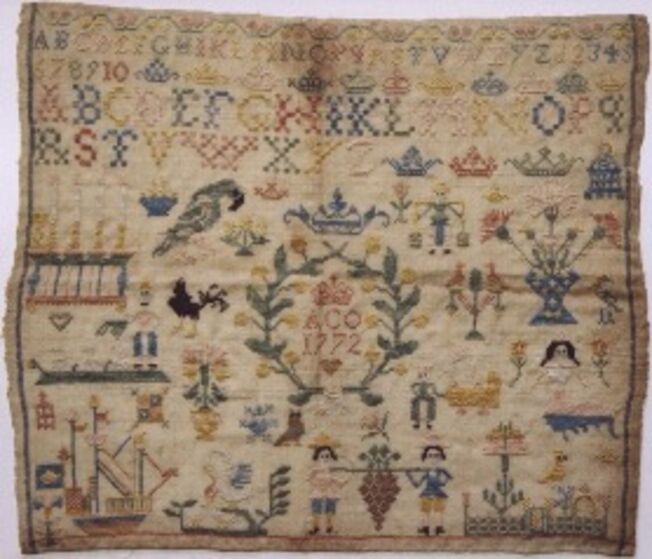 ---
back