Gooitie 1701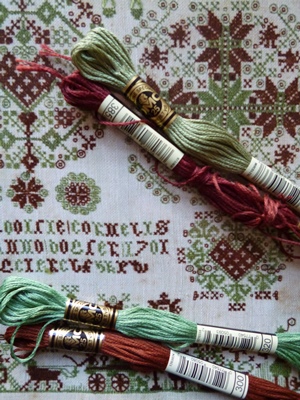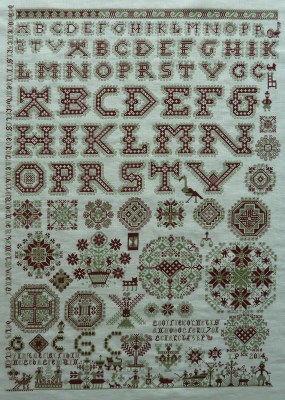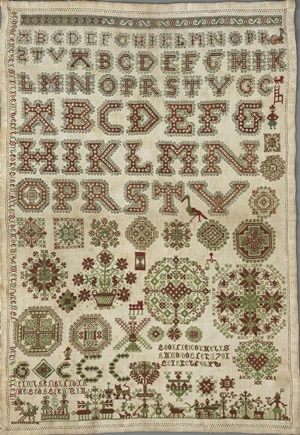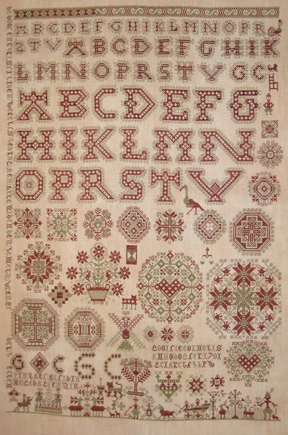 This is "teamwork":
Looking for relationship between samplers from the Vierlanden (Dutch settlers in North Germany) and samplers from Friesland (part of the Netherlands), I discovered GOOITIE'S "Lettermerklap" at the Rijksmuseum, Amsterdam.
Dijn Duijs from the Netherlands tried to give a meaning to the verse, Gigi Ries from Belgium sent her precious book "Letter voor Letter" to Berlin for two weeks, and Gieneke Arnolli, Curator of Fashion and Textiles at the Fries Museum in Leeuwarden/Netherlands, completed the information on the maker and the place of origin. Bhooma Aravamudan from Indianapolis was my stitching companion for many weeks. Thank you very much!
This we know:
Gooitie Cornelis from Hindeloopen in Friesland/Holland married Boldewijn Doedes in 1707, she had stitched a "Lettermerklap" six years before, marked with her full name: Gooitie / Cornelis / Anno / Dogter (= daughter) / 1701, underneath some initials of family members.
Unusual and closely running along the left border, important to her, she stitched a verse of moral exhortation in Old Dutch:
"DE / DOOT / EN / CHRISTI / LIDEN / WERELTS / BEDROG / AEN / ALLE / SIDEN / DES / HEMELS / VRENGT (=VREUGT) / DER / HELLEN / SIN / LAER (LAET) / ALTID / INNE / GEDAGTEN / SIN"
The death and suffering of Christ,
worldly deception on all sides,
the joy of heaven, the sin (the pain) of hell,
let it always be in mind (keep that always in mind).
Samplers from this area have much in common:
- They are finely lined with hemstitches,
- longer than wide,
- usually worked with two or three colours (red and green - red, green and beige - red and blue),
- several rows of alphabets occupy a significant part,
- the letters are lavishly decorated with many small "curls",
- geometric motifs are arranged in rows (rosettes, octagon, star, cross motifs) and lavishly decorated with "eyes",
- the bottom section is formed by scenes and objects of everyday life side by side, here the beekeeper with pipe, the couple at the tree of life , the horseman , the mill, the horse-drawn carriage, butter churn , stork, meadow, smaller pets , a tree of life with deer.
The collection of the Rijksmuseum, Amsterdam includes this sampler. The image of the original has been provided by the museum (inventory number 9987).
Prices:
chart: € 20.-
Crosses: 284 x 401
Size: 40 x 57 cm
Stitches:
cross stitch
Algerian eyelet
back stitch
staying stitch
square stitch