ESHS 1810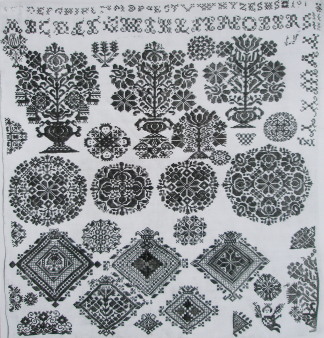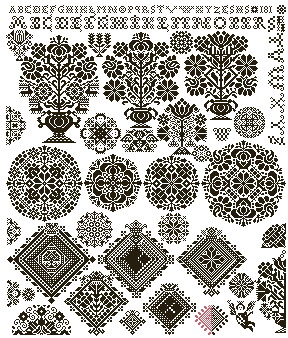 Throughout 500 years the independent Vierlanden culture has formed out on the area of the four rural communes Curslack, Neuengamme, Altengamme, and Kirchwerder – in former times five with Bergedorf. Fertile soil of the Elbe River glacial valley protected by dikes and closely connected to the city of Hamburg, brought money and pride into the houses of large and small farmers. People made use of the highlights of village life, like baptism, wedding and funeral, to take pleasure in their possessions and to show them off: in the bride and groom's gifts, in the clothing on the occasion of festivities, in decorating the home with show pillows, towels, and table linen. Like this, the home-stitched dowry was proudly displayed while carried along with a handcart to the home of the groom.
In regard to that every young girl needed previous exercise on so-called name samplers, darning and mending samplers, buttonhole samplers, and the famous shirt-front samplers. With the help of the gathered variations of motifs the dowry could finally be made: The name was stitched between rosettes, trees of life or angels on pillowcases, bed sheets, tablecloths, cradle covers, rain sheets and shrouds. Everyone knew the traditional motifs with their symbolic content.
Many thanks to the staff members of Germanisches Nationalmuseum in Nuremberg for sending me a photo and for their kind support (inventory number KL 9178).
Price:
chart : € 20.-
Crosses: 280 x 331
Size: 40 cm x 47 cm
Stitches:
cross stitch
back stitch
satin stitch