Ellen WinStanley 1855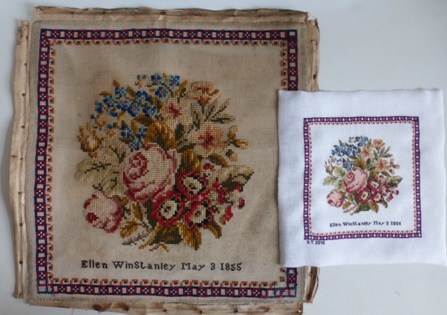 A lush bouquet in wonderful colors framed by a very simple border. This is probably Ellen's first attempt to stitch a motif from the Biedermeier period. On very coarse ground. With plenty of thick woolen threads. A big challenge for the supposedly small Ellen. She proudly signed her sampler with her name and the year in fine cross-stitches over one thread.

The Biedermeier era was long gone, but the enthusiasm for these colorful patterns lasted for almost a hundred years worldwide - popular on bags and pillowcases, too.
Prices:
chart: € 10.-
Crosses: 130 x 136
Size: 18.5 x 19 cm
Stitches:
cross stitch