Cecilia Millar 1828
19th Century | Great Britain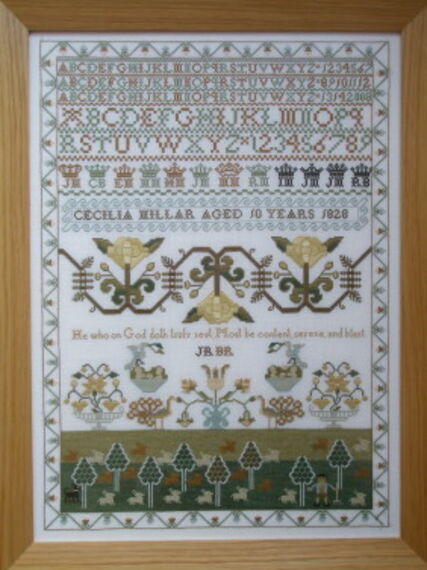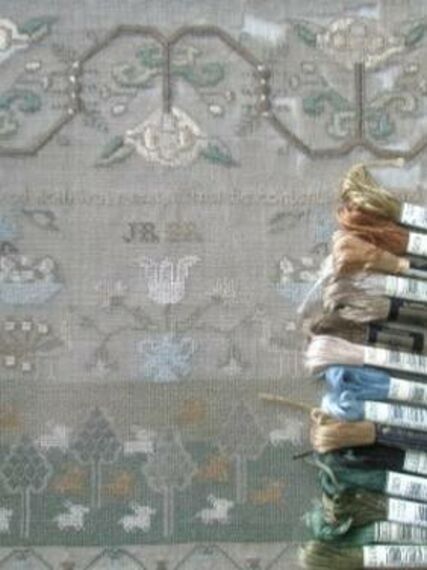 If my friend Margit had not spotted Cecilia's sampler at a Berlin antique and flea market, I would not have checked up on Scottish needlework. The coincidence is terrific! After the embroidery of ten year old Cecilia Millar had been saved by 10 Euros, the piece showed its beauty. What patience! What diligence! What serenity!
Cecilia, like many young girls from a good family in former times, certainly had a strict mistress, who instructed her in domestic traditional needlework:
- Working the alphabet a red-green color change occurred on many Scottish samplers, and eyelets were already used in the second alphabet.
- She exercised the satin stitch in different directions in the broad wavy band of stylised flowers
- and she stitched the short moralizing text (He who on God doth truly rest, Must be content, serene and blessed.) in fine gobelin stitches.
- All family members – even the deceased – were perpetuated beneath the crowns.
- Typical of Scottish samplers is the occurrence of the peacock with outspread tail, elaborately trimmed trees, and the so-called "strawberry border" as edging design.
The rural scene is really pleasant with the dog at the edge of the small flock of sheep and the shepherd standing with legs apart, supported by a rake.
Crosses: 294 x 381
Size: 41,5 cm x 54 cm
Stitches: Cross stitch, gobelin stitch, Algerian eyelet, satin stitch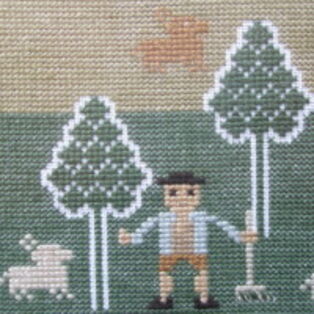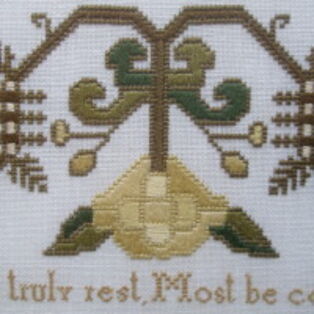 ---
back