CAK 1769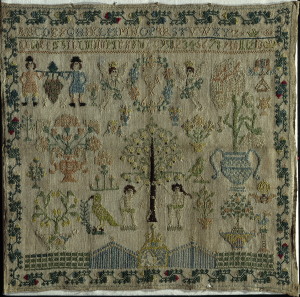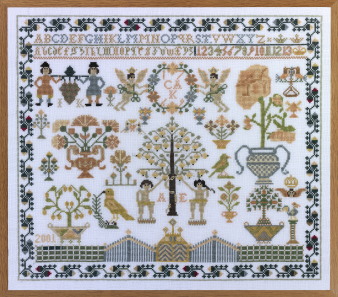 The sampler worked by "CAK" in 1769 is part of the wonderful collection of the German Sampler Museum in Celle. It comes from Blankenese, a district of Hamburg today. This northern German sampler is a beautiful and also typical example of its time. I especially thank the Elfi and Hans-Joachim Connemann for the opportunity to present it here.
Many samplers from that time are framed by the so-called acorn border. Biblical stories were told in a figurative language within this frame. The Garden of Eden with the first parents of mankind often takes up an important place. (Here the stitcher supplied her paradise garden fence with three handsome, probably realistic gates.) Adam and Eve tell i.e. about the expulsion from paradise and remind us of the finite nature of earthly things. The spies Joshua and Caleb carrying a bunch of grapes tell from the fertility of Canaan. The vase full of carnations holds the Christian legend, according to which the carnations sprang up from where Virgin Mary's tears had fallen to earth on her way to Calvary.
Winged angels often float above the tree of knowledge holding a wreath - often with initials and the year. The wreath is in the Christian culture a much used symbol of eternity. (Today, we yet know the victory wreath, the wreath of honour, the wedding and the funeral wreath.) Angels are regarded as a mediator between God and man. They are beings of an invisible world and also accompany the dead on their way.
The close connection between the needlework lessons, a main subject at that time, and the Protestant church explain the many religious motifs and symbols on North German samplers. By the way, they are a result of the church polity that had demanded the foundation of "Jongfern-Scholen" – girls' schools – after the Reformation.
Prices:
chart : € 20.-


Crosses: 299 x 294
Size: 42.5 cm x 41.5 cm
Stitches:
cross stitch
square stitch