BK RM 1779
18th Century | Germany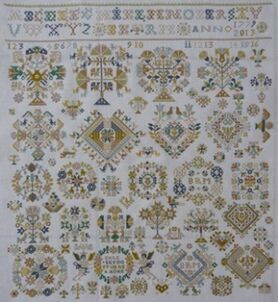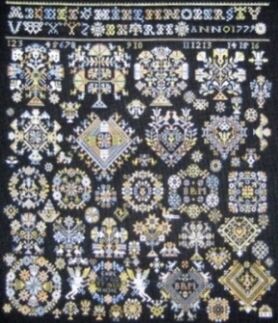 Ehre sey Gott in der Höhe
It was a real sensation what I saw in the archives of the Museum of Hamburg History: a colourful sampler from the Vierlanden area dated 1779! EVERY motif in a beautiful colour combination! I could not believe it! A single piece? A single piece! Until now!
B(ec)K(e) stitched the typical alphabet with eleven "warm" silk colours in constant colour change, designed the various trees of life, rosettes and diamonds in her colour scheme, filled two motifs with her initials and added in the ring - held by two angels in finest cross-stitch - "EHRE SEY GOTT IN DER HÖHE" (Glory to God in the Highest). Countless little birds "populate" her sampler or "buzz" the motifs, lovebirds are billing and cooing, many hearts, stars, flowers - a cheerful and lively sampler, a piece made with creativity and joy "tells" of love.
(The motif of the double eagle in the tree of life on some Vierlanden samplers symbolizes that the Vierlande area belonged to the two cities of Hamburg and Lübeck.)
Similar to the Netherlands four different samplers were usually worked in the Vierlanden area:
- a "name sampler" (with alphabet, initials, sometimes full name, diamonds, rosettes, stylized trees of life, flower vases, small samples of crowns, stylized animals, angels, wreaths and year - mostly in cross stitch),
- a "buttonhole sampler",
- a "shirt gusset sampler" with needle lace and
- a darning sampler.
I thank Mrs. Buggenthin, sampler lover and stitcher, who shared her knowledge with me in a long wonderful conversation.
Crosses: 315 x 356
Size: 44,5 x 50 cm
Stitches: Cross stitch (over 2 x 2 threads and over 1 x 1 thread), back stitch or double running stitch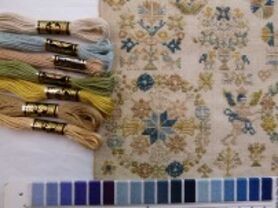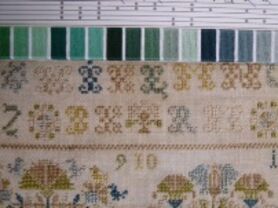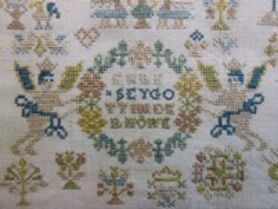 ---
back