Berlin Woolwork
no name, no date: forget-me-not


For a sampler like this, you were putting a great deal into preparation: Beautiful motifs wanted to be sought and found, selected, purchased quite expensively, and intellectually placed. Not till then, you could begin to stitch.
The stitcher found many of these more than 30 motifs amongst the huge range of hand coloured patterns from various publishing houses in Europe – originated in Berlin, later known as "Berlin Woolwork" all over the world. The corresponding shades of watercolours were dabbed in using a fine square tipped brush.
The stitcher placed a forget-me-not border at the beginning and end – very meaningful. That is why I call this unsigned and undated sampler "Forget-me-not".
She formed a longitudinal axis using large, extravagant and unusual motifs. Most eye-catching are 'Faith Love Hope' and the beautiful wreath with exotic birds. Flowers everywhere, in small bouquets, in cornucopias, in wreaths and containers, in edgings and borders.
Thus, these motifs were shortlisted out of a treasure of collectibles. It would be interesting to know why right those? I only know the artists or companies of two motifs: Conrad Riedel (1788-1859) from Nuremberg created the 'Faith Love Hope' motif and the crowned wreath originated at Franz Barth from Vienna.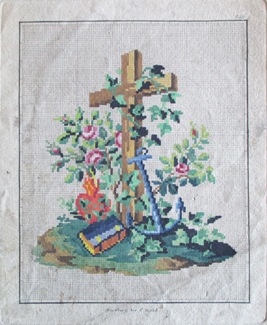 Four from Graeco-Roman times through the Middle Ages still known chief virtues of wisdom, justice, fortitude and temperance are complemented by the Christian virtues faith, love and hope. Their symbols are
- cross, chalice, host = faith,
- heart, woman with child = love
- anchor, bird, branch = hope.
Across Europe, they were popular embroidery motifs by the end of the 19th century.
All major motifs are elaborately designed, they show vividness and in the beautiful colour hues they come to reality pretty close. Very popular with the middle classes of that time were exotic birds. They were held in small cages or large volaries in the house; they were stitched on bell pulls, bags, cushions, ... because there was a wide variety of motifs by the publishers.
The original sampler has been coming for a long term "visit" to my home. I loved it at first sight, but I also had great respect for the counting and charting.
I cannot thank enough my friend Margit for her patience. She consistently encouraged me.
I can show the original pattern of 'Faith Love Hope' due to Mrs. Lorraine Mootz from Celle. Thank you so much!
Prices:
chart : € 26.-
Crosses: 203 x 660
Size: 28.5 cm x 93 cm
Stitches:
cross stitch